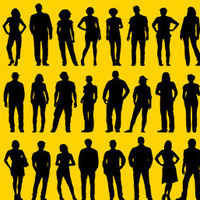 The Rozsa Center for the Performing Arts and Department of Visual and Performing Arts present a concert by the Superior Wind Symphony and Campus Concert Band under the direction of Mike Christianson (VPA).
The concert, "Right Now," is a celebration of music written by contemporary composers. The concert is at 7:30 p.m. Saturday (April 21) in the Rozsa Center.
The Superior Wind Symphony and Campus Concert Band once again combine for their year-end wind concert, 'Right Now,' the music of living composers. These 14 composers are people who walk among us and who you could conceivably meet. Join us for a fresh and invigorating evening. Two have been on this campus, two are jazz bassists and they range in age from 33 to 94.
I have met five of them and performed with two of them. They write in a wide range of styles, so there is bound to be something you will love. The composers include John Mackey, Shelley Hanson, Chris Brubeck, Eric Whitacre, Michael Daugherty, Fred Hersch, Rufus Reid, Esperanza Spalding, Radiohead, Bjork, Andrew Boysen, Jr., Tan Dun and Sammy Nestico. – Mike Christianson
Tickets for "Right Now" are on sale now, $13 for adults, $5 for youth, and no charge for Michigan Tech students with the Experience Tech fee. Tickets are available by phone at 87-2073, online, in person at the Central Ticketing Office in the Student Development Complex or at the Rozsa Box Office the evening of the performance.
Note the Rozsa Box Office only opens two hours prior to performances.
Can't make the performance? You can listen via our live-streaming!