A number of students have received awards at the Visual and Performing Arts end-of-year student awards banquet that was held Tuesday, April 24th in the Rozsa Lobby.
The well attended ceremony was MC'd by VPA Department Chair, Jared Anderson, who raffled off fun and inspiring prizes for the students as we wished them well.
MUB pasties and celebratory cake were served – a good time was had by all.
Here is the list of this years award recipients:
Department Scholar: Sarah Calvert
Woman of Promise: Makenzi Wentela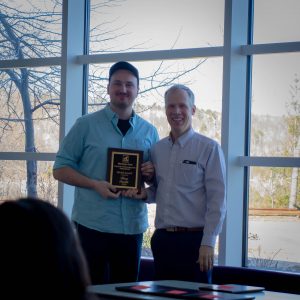 All Arts:  Samantha Palumbo
Art:  Alexander Pohl
Music:  Katya Klebba
Sound: Henry Sendek
Theatre: Hunter Storie
Milton Olsson Music Award: Giselle Ulep
Congratulations and best wishes to all of our graduating seniors.