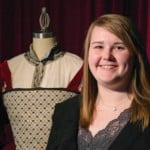 The article Faking It by Jennifer Donovan concerns Tech theatre students and the art of illusion.
Each year, students and professionals who work in theatre technology—sound, lighting, costumes, stage effects—gather at the United States Institute for Theatre Technology (USITT) annual conference.
"Each year, there is usually one, maybe two student presentations, ordinarily by graduate students," says Mary Carol Friedrich, associate professor and director of theatre design and technology programs at Michigan Tech. "That our students, all undergrads, were chosen to present speaks to the strength of the very practical and professionally relevant work they are doing in the degree programs in the visual and performing arts department."
A bent for swordsmithing is about Matt Willett, a Michigan Tech theatre technology student who had dabbled in magic when he was in high school and had seen a sword trick or two.
Willett's teacher, Assistant Professor Kalen Larson, was so impressed with Willett's creation that he invited the student to write a paper about it with him.
OMG! From wet head to up-do in five minutes is about Elizabeth LaRouche, who is working as costume shop manager in the Department of Visual and Performing Arts.
Sew faux: painted embroidery for the Shakespearean stage is about Katy Ellenich, a Calumet native who worked at the Calumet Theatre all through high school.
Making every new glove old again is about Morgan Nelson, a third-year costume design student from Cadillac.
Read more at Michigan Tech Magazine, by Jennifer Donovan.
For more color photos, including a high flying performance in Stealing Fire, view the PDF or Flash versions.
Learn more about the BA program in Theatre and Electronic Media Performance and the BS program in Theatre and Entertainment Technology.