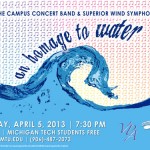 Symphony and Concert Band Present a Concert Inspired by Water!
Is water important in your life? This Friday, April 5, at 7:30 PM, The Michigan Tech Superior Wind Symphony and Campus Concert Band will present, "An Homage to Water," at the Rozsa Center. The concert will be directed by Mike Christianson and the SWS will perform original works inspired by: oceans, ice, rain, rivers, glaciers, ships and sailors, by great composers such as George Friederich Handel, Clare Grundman, John Mackey, George Gershwin, Ralph Vaughan Williams, and Robert Russell Bennett.
Tickets are $12.75 for adults, and free for Michigan Tech Students. To purchase tickets, call 7-2073, go online at http://www.rozsa.mtu.edu , or visit Ticketing Operations at Michigan Tech's Student Development Complex. SDC box office hours are 8 a.m. to 9 p.m. Monday through Friday, 8 a.m. to 7 p.m. Saturday and noon to 8 p.m. on Sunday. Please note the Rozsa Box Office is closed during regular business hours, and will only open two hours prior to show times.
From Tech Today.
Superior Wind Symphony to welcome pianist Cameron Kardel, Campus Concert Band and Sax Quartet for final concert of the season.
On Friday, April 5, the MTU Superior Wind Symphony, under the direction of Dr. Mike Christianson, will present their final concert of the season. The concert is entitled: "An Homage to Water", and almost all of the music has been composed in tribute to water, and what happens in and around it. The Concert is at 7:30PM at the Rozsa Center for Performing Arts, Houghton, MI. The admission is $12.75 but is free for Tech students.
The program will consist of:
Campus Concert Band
William Latham: Brighton Beach
Clare Grundman: Fantasy on American Sailing Songs
Frank Ticheli: Shenandoah
Ralph Vaughan Williams: Sea Songs
John Mackey: Undertow
Sax Quartet
John Mackey: Strange Humors
Superior Wind Symphony
George Gershwin: Rhapsody in Blue, Cameron Kardel, Piano solo
George Frederick Handel: Water Music Suite
Robert Russell Bennett: The S.S. Eagle March
Cameron Kardel is a senior Chemical Engineering major at Michigan Technological University.
The Superior Wind Symphony is the premier wind band at Michigan Technological University. It is an auditioned ensemble that performs multiple concerts and tours yearly.
Campus Concert Band is a non-auditioned ensemble that meets and performs in the spring.
The Saxophone Quartet is: Randall Bufanda, Matt Kiekinveld, Claire Allison, and Danielle Terry, with special guest Matthew Jones on percussion.
From Mike Christianson.