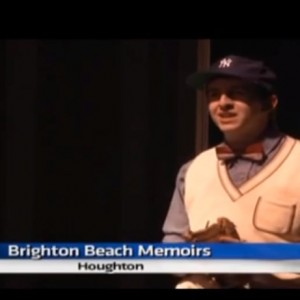 Brighton Beach Memoirs comes to Michigan Tech
Michigan Tech student Toby Mahan plays the main character and narrator, Eugene.
"He's a classic 15-year-old boy," said Mahan. "He's just discovering girls now, so it's a confusing and very exciting time in his life. And when he has his aside, he has these brief moments of wisdom."
Read more and watch the video at Upper Michigans Source, by Sarah Blakely.
Another opening, another show
Pictured, from left, are Kate Van Susante, Dollcie Webb, Annika Seigel (hidden), Audrey Ortiz and Toby Mahan.
Read more at the Mining Gazette, by Scott Viau.
Tech Theatre Company to present Neil Simon play Oct. 17-19, 24-26
Brighton Beach Memoirs is a witty, yet poignant recollection of growing up during the Depression.
Read more at Keweenaw Now.
'Brighton Beach Memoirs'
Director Trish Helsel is the one putting all the pieces of the play together and said directing "Brighton Beach Memoirs" is something she had wanted to do for quite some time.
"I wanted to direct it because it's Neil Simon's first play where he makes a huge breakthrough and it speaks to me," Helsel said. "Every individual in the (play) is going through something and they're surrounded by the Great Depression."
Read more at the Mining Gazette, by October 17, 2013
"Brighton Beach Memoirs" a play worth experiencing
In a live performance, anything can happen, whereas in a movie, the same thing is guaranteed to happen with every viewing.
Read more at the Michigan Tech Lode, by James Wood.