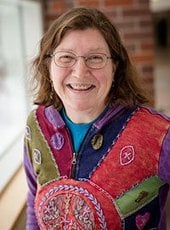 Gretchen Hein (EF), was honored at the National Science Teachers Association National Conference for her advising of the 2017 eigth-grade eCYBERMISSION National Winning Team. eCYBERMISSION is a "is a web-based science, technology, engineering, and mathematics (STEM) competition for students in grades six through nine that promotes self-discovery and enables all students to recognize the real-life applications of STEM" according to their website. The Lake Linden-Hubbell High School team was comprised of Siona Beaudoin, Beau Hakala and Gabriel Poirier, along with guidance from Ryan Knoll, a student in Chemical Engineering. Hein is advising the ninth-grade eCYBERMISSION team and they have submitted their mission folder for review and evaluation.
Mission folder judging is based mainly on application of scientific inquiry using scientific practices or engineering design process. Other criteria include benefit to the community and team collaboration. First-place national award winners receive a $5,000 U.S. Series EE Savings Bond at maturity per student.
eCYBERMISSION Mission Folder for "Whiz Kids"
Extract from Community Benefit:
Stamp sand is an abundant material in our community. Due to the mining that took place in our community there are some areas of stamp sand along Lake Superior and on Torch Lake near our town. Though the Environmental Protection Agency has remediated some areas by spreading topsoil over the stamp sands and planting plants, there are some areas still with exposed stamp sand.
When learning about stamp sands and where they are located, we took a trip to the stamp sands in the town of Gay Michigan. We looked at the vegetation that was growing on the stamp sand. This relates to our experiment because we are trying to test which type of plant will grow in the least amount of topsoil. On this trip, we saw where plants were already growing in the sands, but we also noticed that there were a lot of barren areas. The regions where plants grew where water pooled or flowed into the area bringing not only water, but nutrients too.
Our school participates in the Lake Superior Stewardship Initiative (LSSI). This program "brings together schools and community partners to prepare K-12 students to become knowledgeable citizens concerned about the Lake Superior watershed and actively engaged in stewardship projects in their community." (LSSI) Students in different science classes at our school sample water and soil as part of the Torch Lake Remediation Monitoring program.
Read more about the Whiz Kids' scientific inquiry at eCYBERMISSION.

---
All first-year students will receive mid-term grades for their classes; mid-term grades are viewable on Banweb Monday, 8th week, 5pm.
The purpose of mid-term grades is to help first-year students see how they are performing in their classes. If a student has questions regarding a mid-term grade for a class, they should meet with the instructor. Mid-term grades are defined as satisfactory (SA), unsatisfactory (UN), not applicable (NA), and missing (M). NA is used for courses where credit is not earned. M is used when an instructor does not submit a grade. Mid-term grades are temporary grades and will be replaced when the student has earned the final grade for the class. Therefore, no permanent record of the mid-term grade is kept.
---
Fall 2018 registration will be open March 18th through April 1st, midnight. If you have questions regarding what classes to take, you should make an appointment to meet with your academic advisor.
Registration typically opens each night at 10:00 pm. Due to the large number of students, some days will have two start times, 10:00 pm and 11:00 pm. To find out what day and time you register go to:
– Banweb: Student -> Registration -> Check Registration Status to see Time/Day and Permits and Overrides (aka waivers)
Priority is based on the number of credits earned at the time of registration. This does not include the number of credits the student is currently taking.
Students may register anytime on or after their scheduled day.
The web will be unavailable for registration from 2:00–2:30 am each day.
Registration closes at midnight Sunday, March 26th and reopens later that week.
Students with questions or problems should contact the Student Service Center at 487-2319 or e-mail schedule@mtu.edu.
---
As you are getting into your classes, you may find that you need extra help on a topic. If you have questions, go see your professor during office hours, or e-mail your professor to set up an appointment. Learning Centers are another resource on campus:
Chemistry: 208 Chem Sciences and Eng Building
Computer Science: 114 Rekhi Hall
Engineering Fundamentals: 208 Dillman Hall, Tuesday- Thursday, 7pm-9pm
Mathematics: 234 Fisher Hall
Multiliteracies Center (formerly the Writing Center): 107 Walker Arts and Humanities Center
Physics: 128 Fisher Hall
Visit the link for all Michigan Tech Learning Centers
---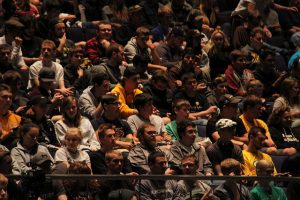 Mary Raber (Pavlis Honors College/LIFT) is the principal investigator on a project that has received a $22,800 instruction grant from VentureWell.
Mary Fraley (EF), Brett Hamlin (EF), Amber Kemppainen (EF) and Jonathan Leinonen (SBE) are Co-PIs on the project, "Building a Curriculum that Fosters an Innovation and Entrepreneurial Mindset for Our First-Year Students." This is the first year of a 2.6-year project.
By Sponsored Programs.
---
The last day to drop a class with a withdrawal (W) grade:
Track A classes – Friday of Week 5 (February 16, 2018, 5pm)
Full semester classes – Friday of Week 10 (March 30, 2018, 5pm)
Track B classes – Friday of Week 12 (April 13, 2018, 5pm).
All first-year students must meet with their academic advisor and instructor to drop a class. This allows the student to discuss the ramifications before dropping a class. Therefore, do not wait until Friday to get signatures.
All students must go to the Student Service Center to drop classes after 1st week of classes.
After the last day to drop, students who have extenuating circumstances must appeal to the Student Affairs office for a Late Drop. See instructions for requesting a Late Drop.
"W" Withdrawal Information: When a student drops a full semester class between 1st and 3rd weeks, nothing appears on their transcripts. When a student drops a class between 4th and 10th weeks, a withdraw grade (W) appears on their transcripts. This indicates that the student took the class for a significant amount of time (more than 3 weeks) and then decided to drop the class. One W on a transcript is not a big deal (check with Financial Aid to see a W grade will affect your financial aid, scholarships, or loans). More than a couple of Ws will start to indicate to a potential employer that a student cannot complete what they set out to do.
---
Last Day to Drop Without a "W" (Withdrawal) is February 2, 2018 (Friday, Week 3)
All first-year students must meet with their academic advisor to drop a class after classes start.
All students must go to the Student Service Center to drop classes after 1st week.
---
Before you start the next semester is a good time to review your Interactive Degree Audit. It will allow you to confirm you are registered for the correct classes.
Sign into MyMichiganTech
Select Current Students from the tool bar
Locate Academic Information on the page
Select Undergraduate Degree Audit

Run Audit for Latest will give your current major.
General/Undecided Engineering or students changing their major should use the drop down to select the new major. NOTE: this will show requirements for the current school year, which may be different from the requirements for the year you started.
If you have questions regarding your audit, please feel free to stop by 112 Dillman and meet with Amy Monte.
---
---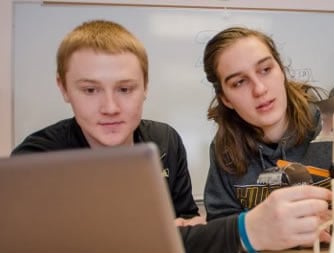 The Fall 2017 semester at Michigan Tech brought something new to first year engineering students taking courses ENG 1001 and ENG 1101: Inclusive Access. The result—a tremendous cost savings.
In an effort to offset the rising costs of course materials, Michigan Tech's Campus Store—together with a text book publisher, an e-book vendor, and Department of Engineering Fundamentals faculty—provided students course material access (in the form of an e-book) through Canvas for the first day of classes. Students were emailed prior to the semester to explain the process. They could choose to opt-out of the Inclusive Access program within the first 10 days of the semester and seek alternatives on their own. If they didn't opt-out or drop the course, their tuition accounts were charged.
The cost savings for 896 Engineering Fundamental students exceeded $72,000. Course materials that formerly cost students $230 as physical books only cost them $149 digitally through the Inclusive Access program. The same course material is used throughout the First Year Engineering Program sequence, and students can access the material for two years.
Research indicates students who have access to course materials have a higher success rate in the classroom than those that choose not to use them. The Campus Store is looking to expand the Inclusive Access program to help increase the chances of student success.
---