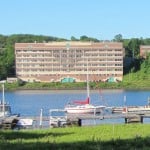 Technology Century, a science and technology news website published by the Engineering Society of Detroit, reported on a visit by ESD executives to Michigan Tech and plans to establish a student chapter of the ESD at Michigan Tech.
Joshua Pearce (MSE/ECE) and Richelle Winkler (SS) coauthored "Resilience to Global Food Supply Catastrophes", published in Environment, Systems, and Decisions.
Pearce coauthored "Peanut shaped ZnO microstructures: controlled synthesis and nucleation growth toward low-cost dye sensitized solar cells", published in Materials Research Express.
Paul Sanders (MSE/IMP) is the principal investigator on a research project that received a Co-op/Joint Agreement-Cost of $362,000 from the American Lightweight Materials Manufacturing Innovation Institute. The project is titled Melt-5a – Developing and Deploying Thin Wall Ductile Iron Castings for High Volume Production. Also involved with the project are Gregory Odegard (MEEM) and Stephen Kampe (MSE).
Ben Wittbrodt (MSE masters student) and Joshua Pearce (MSE/ECE) co-authored the article "Total U.S. cost evaluation of low-weight tension-based photovoltaic flat-roof mounted racking" published in Solar Energy. Pearce also published, Buckle up for fast-tracked science thanks to open-source hardware in Engineering for Change.
The Graduate School Announced Award Recipients for Fall 2014 and Spring 2015, Doctoral Finishing Fellowships: Jie Zhou, PhD Candidate in Materials Science and Engineering, "Five years training and researching background on physics and materials science give me the ability of identifying scientific problems and finding the way to walk through individually or collaboratively."
Joshua Pearce (MSE/ECE) was the keynote speaker for the Shared Resource Laboratories: Driving Innovation and Discovery joint Mid-Atlantic Directors and Staff of Scientific Cores (MAD SSCi) and Southeastern Association of Shared Resources (SEASR) meeting in Charlottesville at the University of Virginia last week.
Michigan Tech is featured in a video from CNN about graphene for Tolou Shokuhfar's and Reza Shahbazian-Yassar's work in 3D bioprinting.
Yu Wang (MSE) has received an $88,467 research grant from the National Science Foundation for the project, Collaborative Research: In-Situ Three-Dimensional Diffraction and High-Resolution Electron Microscopy Study of Modulated Martensites.
The funding is for the first year of a potential three-year project totaling $272,539.
The Michigan Tech Vice President for Research Office announces the Research Execellence Fund Awards. Thanks to the volunteer review committees, as well as the deans and department chairs, for their time spent on this important internal research award process. Infrastructure Enhancement Grants: Stephen Kampe, IMP/MSE. Environmental Test Chamber; Link to full list
Global Scientist published an article by Jephias Gwamuri, a fellow of the Fulbright Science and Technology Award program from Zimbabwe and an MSE PhD student, titled "3D-Printing Technology for Economic Revolution in the Developing World."