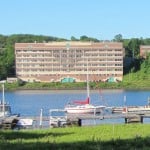 Michigan Tech's open-source 3D printer was recently covered extensively by the international technical press, as an Australian company released a commercial metal printer based on Michigan Tech concepts, noted in the article "Metal Printing For the Consumer–The S1 From Aurora Labs", in 3D Printer World. TU Delft University (Netherlands) also made a derivative printer using an open-source Prusa i3 RepRap, described in the article "Printing In Metal with a MIG Welder," in Hackaday. Gizmodo, 3Ders and others have also covered this technology, and the Michigan Tech 3D printer remains on "Malaysia's 6 Trends That Will Dominate in 2014."
TechGen Magazine published an article about Associate Professor Joshua Pearce's (MSE) study on what families could save by 3D printing common household objects.
The work of Associate Professor Joshua Pearce (MSE/ECE) and his group was featured in "How 3D Printers Are Boosting Off-the-Grid, Underdeveloped Communities" in Motherboard.
PhD students Chenlong Zhang and Jephias Gwamuri (MSE) coauthored an article with Associate Professor Joshua Pearce (MSE/ECE) titled "Design of Multijunction Photovoltaic Cells Optimized for Varied Atmospheric Conditions" published in the International Journal of Photoenergy.
Technology Century, an online and print publication of the Engineering Society of Detroit, featured editor Matt Roush's interviews with faculty and graduate students from the College of Engineering at Michigan Tech, the first stop on his annual Tech Tour of university campuses in Michigan.
The work of PhD student Bas Wijnen (MSE), research scientist Jerry Anzalone (MSE) and Associate Professor Joshua Pearce (MSE/ECE) on their open-source water-quality tester was featured by Hack A Day.
Associate Professor Joshua Pearce (MSE/ECE) was quoted in an article, Solar 3D Printer Technology to Revolutionise Developing Countries, by BBC Capital.
Joshua Pearce (MSE/ECE) was quoted in news stories about his group's solar-powered 3D printers, which were covered extensively in the 3D printing press, 3D Print, and by technical news outlets such as CNET.
The work of PhD student Bas Wijnen (MSE) and Joshua Pearce (MSE/ECE) on fair trade filament has been covered in the technology and international media, including 3D Printing Industry "Fair Trade Filament for 3D Printing, Here We Come!" and the German DRUPA in "3D Printing at Home Could Be a Green and Socially Responsible Choice."
Joshua Pearce (MSE/ECE) was quoted in "The Road Ahead for 3-D Printers" by PricewaterhouseCoopers (PwC) from an extensive interview they also published.
Michigan Tech's release of an open source syringe pump library was widley covered in the technical press including Gizmodo, Gizmodo India and Gizmodo Australia: Doctors Could 3D Print Their Own Tools For a Fraction of the Cost , Motherboard: 3D Printed Syringe Pumps are Perfect for Cash Strapped Scientists and Med Device: 3D Printable Syringe Pump Design Lowers Lab Costs.
Joshua Pearce's (MSE/ECE) lab was featured in "Printing a Better Community," published in Laboratory Equipment. It was was highlighted by Open Electronics in "Building your Science Lab with Open Source."
Pearce was also interviewed on opportunities for mechanical engineers in the solar industry in "Have You Overlooked Photovoltaics?" for the American Society of Mechanical Engineers.
PhD student Bas Wijnen (MSE) coauthored a paper with Jerry Anzalone (MSE) and Joshua Pearce (MSE/ECE) titled "Open-source Mobile Water Quality Testing Platform" in the Journal of Water, Sanitation and Hygiene for Development.
PhD students Ankit Vora (ECE) and Jephias Gwamuri (MSE) co-authored a paper with Joshua Pearce (MSE/ECE), Paul Bergstrom (ECE) and Durdu Guney (ECE) titled "Multi-resonant Silver Nano-disk Patterned Thin Film Amorphous Silicon Solar Cells For Staebler-Wronski Effect Compensation," in the "Journal of Applied Physics."
PI Reza Shahbazian Yassar (ME-EM) and Co-PIs Yoke Kin Yap (Physics), Stephen Hackney (MSE), Tolou Shokuhfar (ME-EM) and Claudio Mazzoleni (Physics) were awarded $1.2 million from the National Science Foundation for "MRI: Acquisition of a High-Resolution Transmission Electron Microscope for In-Situ Microscopy Research and Education."
Joshua Pearce (MSE/ECE) co-authored an article "Simulations of Greenhouse Gas Emission Reductions from Low-Cost Hybrid Solar Photovoltaic and Cogeneration Systems for New Communities" in Sustainable Energy Technologies and Assessments, Volume 8, pages 34-41. It is available>online
Pearce also co-authored "Towards Low-Cost Microchannel Heat Exchangers: Vehicle Heat Recovery Ventilator Prototype" in the Proceedings of the 10th International Conference on Heat Transfer, Fluid Mechanics and Thermodynamics (HEFAT).