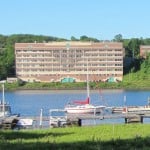 Michigan Tech is featured in a video from CNN about graphene for Tolou Shokuhfar's and Reza Shahbazian-Yassar's work in 3D bioprinting.
Yu Wang (MSE) has received an $88,467 research grant from the National Science Foundation for the project, Collaborative Research: In-Situ Three-Dimensional Diffraction and High-Resolution Electron Microscopy Study of Modulated Martensites.
The funding is for the first year of a potential three-year project totaling $272,539.
The Michigan Tech Vice President for Research Office announces the Research Execellence Fund Awards. Thanks to the volunteer review committees, as well as the deans and department chairs, for their time spent on this important internal research award process. Infrastructure Enhancement Grants: Stephen Kampe, IMP/MSE. Environmental Test Chamber; Link to full list
Global Scientist published an article by Jephias Gwamuri, a fellow of the Fulbright Science and Technology Award program from Zimbabwe and an MSE PhD student, titled "3D-Printing Technology for Economic Revolution in the Developing World."
UPmatters, a news site published by WJMN-TV (CBS) Channel 3, Marquette, featured a story about a collaboration between the Michigan Tech foundry and Finlandia sculpture students. Tech's chair of materials science and engineering, Stephen Kampe and Dale Dewald, who manages the foundry, arranged two sessions for Fredendall's students to work at the facility. There, they were able to cast in both bronze and aluminum. Read more here
Joshua Pearce (MSE/ECE) was quoted on NBC New York in the story "Beyond Plastic: New Technology Promises Greener 3-D Printing" . Pearce published Applications of Open Source 3-D Printing on Small Farms in the journal Organic Farming. Pearce was quoted by EcoWatch in an article about Michgan Tech's Solar Powered 3D printers. EcoWatch is a leading news website reporting on environmental news, green living and sustainable business. Pearce co-authored "A Virtual Educational Exchange: A North-South Virtually-Shared Class on Sustainable Development" for the Journal of Studies in International Education. Pearce's article on Michigan Tech's course to build your own 3D printer, which was supported by a William G. Jackson Center for Teaching and Learning grant, was the editor's pick and most read story on OpenSource.com last week.
Yongmei Jin (MSE) has received $150,000 from the National Science Foundation for a three-year project titled "Collaborative Research: Computational Study of Low Volume Solder Interconnects for 3D Integrated Circuit Packaging."
Alumnus/Winn Fellow Joseph Rozario (ECE) and Joshua Pearce (MSE/ECE) published "Optimization of annealing cycles for electric output in outdoor conditions for amorphous silicon photovoltaic–thermal systems," in Applied Energy. DOI.
Joshua Pearce's MSE/ECE cross-listed course was covered by OpenSource, 3D Print (Unchained with Open Source: Michigan Tech 3D Printing Course Teaches Students to Build 3D Printers) and 3D Printing Industry (Michigan Tech's Open Source Course – The Future of 3D Printing Education). Pearce was quoted in the Examiner story What ever you need, chances are a 3D printer can print it and in a Science News story about a new method to 3D print.
Jaroslaw Drelich (MSE) and Jeremy Goldman (Bio Med) have received $203,996 from the US Department of Health and Human Services, National Institute of Health for the first year of a 22 month-long project titled "Improved Biocompatibility and Biodegradation of Zn-based Stent Materials through Surface Non-Engineering." Continue reading →