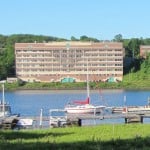 Graduate students Jephias Gwamuri (MSE) and Ankit Vora (ECE) co-authored a paper with Durdu Guney (ECE), Paul Bergstrom (ECE) , Anand Kulkarni (ECE) and Joshua Pearce (MSE/ECE); Limitations of Ultra-Thin Transparent Conducting Oxides for Integration into Plasmonic-Enhanced Thin Film Solar Photovoltaic Devices, in Materials for Renewable and Sustainable Energy.
Graduate students Amber Haselhuhn (MSE) and Bas Wijnen (MSE) co-authored a paper with Jerry Anzalone (MSE), Paul Sanders (MSE) and Joshua Pearce (MSE/ECE); In Situ Formation of Substrate Release Mechanisms for Gas Metal Arc Weld Metal 3-D Printing. Published in the Journal of Materials Processing.
Michigan Tech Materials Science & Engineering Department now has a 550 Ton Extrusion Press for Materials Research, donated by ALCOA, see photos and a video clip "Michigan Tech Material Research: 550 Ton Extrusion Press"
Amberlee Haselhuhn, a PhD candidate in MSE, received the Silver Quill Award from Brigadier General Anthony Funkhouser, commander of the Northwestern Division, U.S. Army Corps of Engineers.
Michigan Tech is the lead research partner with Grede working on thin-walled iron casting for automobile transmissions. The collaboration was highlighted in Foundry Management and Technology and has received support from the LIFT (Lightweight Innovations for Tomorrow) program.
Technology Century, a science and technology news website published by the Engineering Society of Detroit, reported on a visit by ESD executives to Michigan Tech and plans to establish a student chapter of the ESD at Michigan Tech.
Joshua Pearce (MSE/ECE) was the keynote speaker for the Shared Resource Laboratories: Driving Innovation and Discovery joint Mid-Atlantic Directors and Staff of Scientific Cores (MAD SSCi) and Southeastern Association of Shared Resources (SEASR) meeting in Charlottesville at the University of Virginia. Pearce was also quoted in "5 upcoming developments in 3D printing" in the Business Reporter distributed with the Daily Telegraph (UK). Pearce and MSE PhD student Amberlee Haselhuhn coauthored "Intellectual Property as a Strategic National Industrial Weapon: the Case of 3D Printing." in the May-August issue of Engineer: the Professional Bulletin of Army Engineers. Read the article.
Pearce is quoted in the article "Money-Smart Reasons to Install Solar Panels at Your Home Now," on Kiplinger.com and in the August 2015 edition of Kiplinger's Personal Finance. Pearce's research on low-cost heat exchanger technology was featured in the Mumbai Mirror (daily circulation of about 700,000). Pearce also published an article in Gaceta Sanitaria, the official journal of the Spanish Society of Public Health and Health Administration. The translated title of the piece is "Maximizing Return on Investment for Public Health with Open-source Medical Hardware."
Paul Sanders (MSE/IMP) is the principal investigator on a research project that received a Co-op/Joint Agreement-Cost of $362,000 from the American Lightweight Materials Manufacturing Innovation Institute. The project is titled Melt-5a – Developing and Deploying Thin Wall Ductile Iron Castings for High Volume Production. Also involved with the project are Gregory Odegard (MEEM) and Stephen Kampe (MSE).
Ben Wittbrodt (MSE masters student) and Joshua Pearce (MSE/ECE) co-authored the article "Total U.S. cost evaluation of low-weight tension-based photovoltaic flat-roof mounted racking" published in Solar Energy. Pearce also published, Buckle up for fast-tracked science thanks to open-source hardware in Engineering for Change.