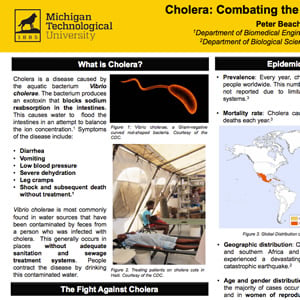 Thanks to all who participated in this year's World Water Day. Thanks to all of the students who entered posters, the judges, our guest speaker, discussion facilitators,  panelists, artists and the committee who pulled it all together.
The keynote lecture, "Mapping the Water Crisis of Unaffordability," was by Monica Lewis-Patrick from We the People of Detroit.
The 2019 World Water Day Poster Award winners:
Original Research Awards
Coursework/Informational Awards
1st— Peter Beach, Bio Med and Jill Poliskey, BIO ($300), Advisor: Kelly Kamm. Combating Blue Death with Clean Water
2nd — Rose Hildebrandt, CLS, Claire Danielson, BIO and Timothy Stone, SS ($200). Advisor: Kelly Kamm. Onchocerciasis and the Right to Clean Water
3rd — Alex Gabe, KIP and Olivia Demaree, Bio Med ($150) Advisor: Kelly Kamm. Clean Water, Clear Vision
World Water Day at Michigan Tech was sponsored by the Great Lakes Research Center, the Departments of Social Sciences and Civil and Environmental Engineering, the School of Forest Resources and Environmental Science, the Sustainable Futures Institute, Center for Diversity and Inclusion,  Department of Visual and Performing Arts and the Western Upper Peninsula Planning and Development Region.
By the Great Lakes Research Center.