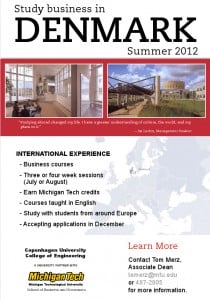 We have a great study abroad opportunity for this summer, 2012, in Copenhagen, Denmark.
Our Associate Dean, Dr. Tom Merz, will be teaching at Copenhagen University this summer and he can provide you with more details about this program.  Dr. Merz can be reached at temerz@mtu.edu
Courses will be taught in English.  A study abroad experience will help you gain a greater understanding of cultures.  Applications will be accepted in December.