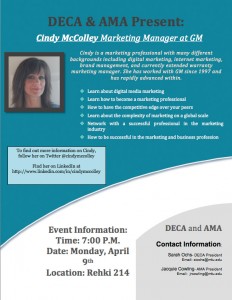 Student organizations DECA and the American Marketing Association will host Cindy McColley via web conference on April 9th, 2012 at 7pm in Rehki 214.
Cindy is a marketing professional with many different backgrounds including digital marketing, internet marketing, brand management, and currently extended warranty marketing manager. She has worked with GM since 1997 and has rapidly advanced within.
Learn about digital media marketing
Learn how to become a marketing professional
How to have the competitive edge over your peers
Learn about the complexity of marketing on a global scale
Network with a successful professional in the marketing industry
How to be successful in the marketing and business profession
To find out more information on Cindy, follow her on Twitter @cindymccolley. You can also find her on LinkedIn.