On April 9th, two, four-person Michigan Tech teams traveled to Grand Rapids, Michigan for A Project Management Collegiate Competition presented by The Project Management Institute, Western Michigan Chapter. Out of eight teams, Michigan Tech placed second, ousted only by Grand Valley State University for the top position. Other competitors from Aquinas College, Kalamazoo College, Davenport University, and University of Phoenix were also in attendance. The day was devoted to presentations, networking, and sharing knowledge about the future of project management.
"Our teams have been preparing over the past two semesters to present project management plans at the competition," said Professor of Operations and Supply Chain Management Dana Johnson. "Being able to use the skills and tools that students learned in class will help them prepare for their future careers."
The student teams, along with their school, business, and PMP mentors, had to create a project management plan for a business seeking B Corporation certification. B Corps permits and protects businesses in making social and environmental decisions. Instead of being accountable only to shareholders, B Corps businesses must also consider their impact on employees, their community, and the environment.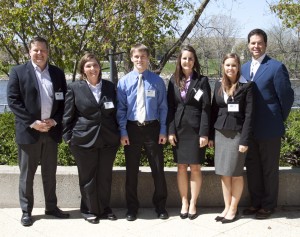 Michigan Tech's Team A was composed of Davi Revord, Emily Jensen, Drew Randall, and Sarah Zimmerman. The A Team was mentored by Ashley Livingston, PMP and Andrew Gill, PMP. Team B was made up of Jane Koivisto, George Olszewski, Ashleigh Juday, and Samuel Eberhard and mentored by Jeff Hazy, MBA, PMP and Derek Mazurek, MBA, PMP.
"This was a wonderful experience for all of us, and we were very fortunate to place in the competition, meet our mentors, and socialize with the WMPMI board," said Samuel Eberhard of Team B. "All of us are extremely happy we had the opportunity to compete in this competition , and we hope future Michigan Tech students take part in it."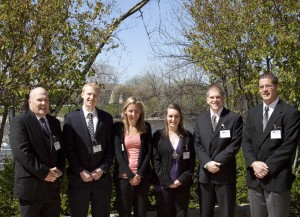 The event is the first collaboration between Western Michigan Project Management Institute (WMPMI), Universities, and West Michigan Business Leaders.
This trip was supported by the Michigan Tech Parents Fund and the Western Michigan Chapter of the Project Management Institute.