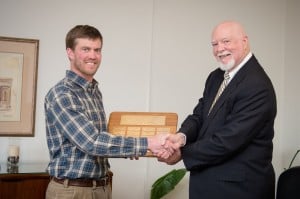 Each year the student body within the School of Business and Economics elects one faculty member as Teacher of the Year. Roger Woods has been selected as the 2013 recipient of the coveted award.  When asked what this award means, the Lecturer in Operations Management said, "I am honored to be selected given the great faculty that we have in the School of Business and Economics. It has helped that I have had some great mentors and support of other faculty to improve my teaching."
During his time at Michigan Tech, Woods has proven to be a great asset to the School of Business and Economics.  He first won the Teacher of the Year Award in 2011 and that same year was inducted into the Academy of Teaching Excellence as a finalist for the campus-wide teaching award.  He was nominated again the following year,  was selected as a finalist, and became the recipient of the Distinguished Teaching Award.
Roger Woods has been instrumental in the execution of the Business Development Experience over the past 3 years.  His duties included: developing the program structure, finding team projects, and teaching the second semester of the senior capstone experience.  Woods notes that "it has been rewarding to see how the students have matured and are able to apply the various School of Business and Economics classes to their projects."
The task Woods is assigned to is not an easy one.  The student teams are all working on different projects which may pull them in different directions.  The Business Development Experience is intended to be a practical application of the skills they learn throughout their time at Michigan Tech.  We hope that the students can draw on these experiences during an interview for a job, but also that they look back on it as a rewarding hands-on experience.
Now that the Spring 2013 graduates have completed their time at Michigan Tech, Woods is looking forward to seeing a new class of students coming to campus this fall and hearing the success stories of all the recent graduates.