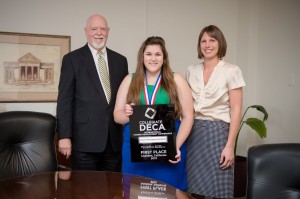 Michigan Tech's DECA Chapter attended the Wisconsin State Career Development Conference this year with all members traveling to Madison, Wisconsin to compete during the spring semester.  Members attending the event included: Brittany Barry, Angela Barr, Kaylee Betzinger, Haley Florinki, Frank Kampe, Gabe Kallungi, Sarah Ochs and Tom Simonsen.
Michigan Tech DECA students were very successful at the conference with all participating members taking home medals. Awards Received by each member are listed below:
Haley Florinki took home the gold in the Banking and Financial Services category. She received a plaque and three medals.
Sarah Ochs received the gold in a Business Research prepared event steaming from research conducted in her Marketing Research class with Dr. Jun Min. She received a plaque and three medals.
Tom Simonsen took an overall of second place receiving three medals in the category of Corporate Finance.
Brittany Barry received a medal in the Accounting Category with second place on her role play as well as placing in the top eight for her exam and being top eight overall. She took home three medals.
Frank Kampe participated in Restaurant and Food Management placing third place for his exam.
Angela Barr and Kaylee Betzinger worked as a team in their Business to Business event receiving a medal for being top eight in their event. Angela Barr also received a medal for being top eight in her exam for her category.
Gabe Kallungi participated in Restaurant and Food Service Management receiving three medals by placing third for his role play.
DECA Vice President Haley Florinki was the only Michigan Tech student to go on to the international conference.  She traveled to Anaheim, California where she also took first place in the National Management Institute category.  We are proud of DECA Chapter and look forward to their continued success and growth.