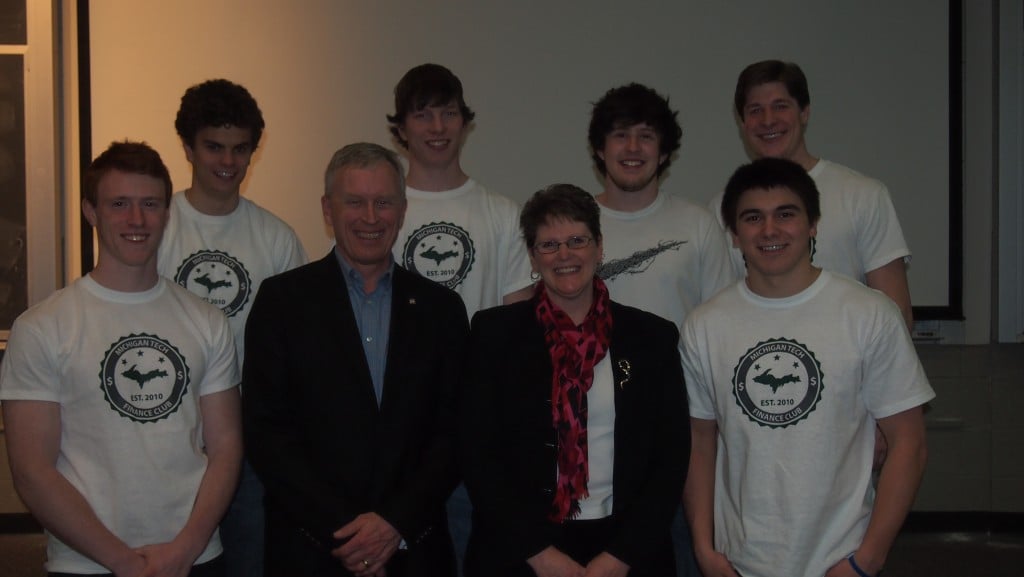 On Wednesday, April 9th, The Michigan Tech Finance Club hosted their second event of "Broke and Hungry?".  53 students attended the event, lured by the promise of knowledge and pizza.  This year, local Edward Jones advisors Dan Dalquist and Shelly Larson took the time to talk to students about investing their money.  The main topic for discussion was the transition from college life to getting that first job, as well as the importance of saving for retirement.  Dalquist preached to students from all majors about technical financial topics such as tax savings, retirement plans, and asset securities.  Presenting some scary statistics about the current financial situation of most Americans, Dalquist and Larson appealed to audience members about the merits of getting their finances in order.  Since Tech students are numbers-driven, students were able to clearly see the drawbacks of waiting to save for retirement.  Ensuing the presentation was a barrage of questions.  Students were very interested in both advisors' opinions of the future states of the market, social security, inflation, and how Edward Jones operates.  Even after the session concluded, both advisors spoke with many students one-on-one to answer specific questions.
Brett Ludwig, President of the Finance Club, talked to a few of the students in order to gauge their reactions to the presentation.  Overall, everyone seemed to enjoy the event and got a lot out of it.  One student, who is going to work for a company in Texas after graduation commented, "I'm looking at all this right now and this is exactly what I needed to know."  The event was a hit and the Finance Club hopes to be able to host more events of this nature in the future for students.  A huge thank you goes to Dan Dalquist and Shelly Larson for making this one possible.
On behalf of the Finance Club, we hope you don't wait until you're broke and hungry to join us for the next event!
**This article was written by Brett Ludwig, with contributions from Emanuel Oliveira and Laura Bucci.