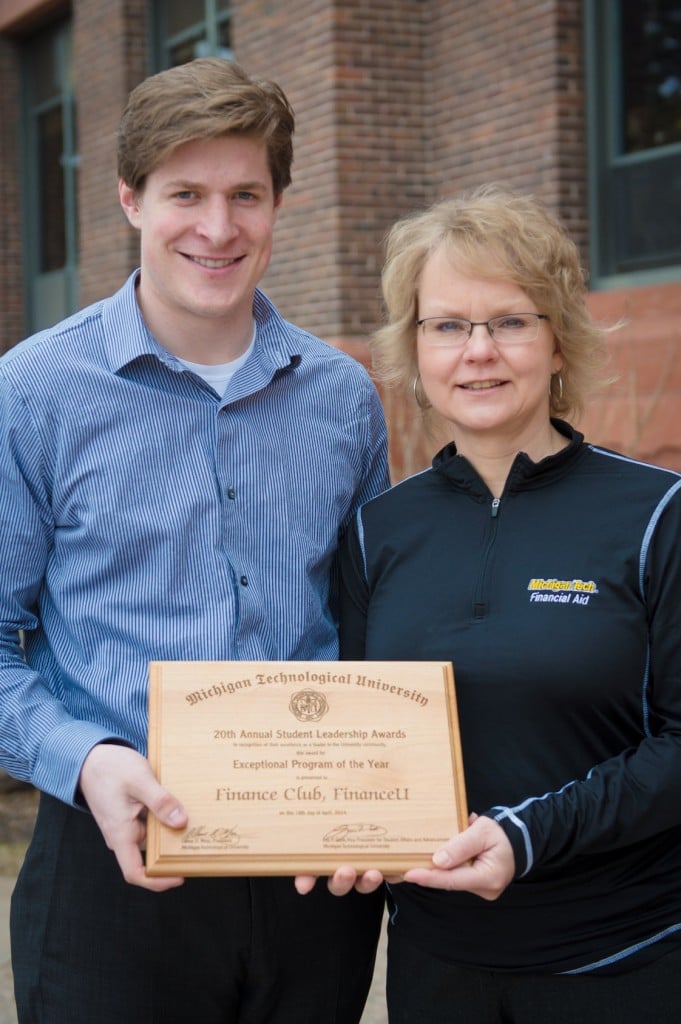 At the 20th Annual Student Leadership Awards on Friday, April 18, FinanceU received the honor of Exceptional Program of the Year.  FinanceU, an event in financial literacy put on by the Office of Financial Aid and the School of Business and Economics' Finance Club on November 20, owes some of its success to its partnership with Michigan Tech's Office of Financial Aid and Wells Fargo Bank.
The Finance Club and the Office of Financial Aid have partnered to produce the successful FinanceU events in order to help students make informed financial decisions.  FinanceU's mission is to foster a greater sense of financial literacy among all students, regardless of major.  Topics discussed at this year's event included financial aid opportunities, how to manage one's personal finances, starting and continuously funding a substantial retirement plan, and provided students with online tools to help manage all of these aspects.  Financial Aid Advisor, Cindy Cowell, and Wells Fargo Store Manager, Ellie Freeman, were on hand to answer questions from audience members, but the main focus of the event was for students to present information to other students, since research shows that individuals are better able to understand a message when it is delivered by a peer.
This second consecutive FinanceU event held at its roots the same message as last year's activity; Michigan Tech students were given the knowledge and power needed to enable them to begin making sound financial decisions before even graduating from college.  Similar to the previous year's event, a survey was administered to participants, asking them to rate their knowledge of budgeting.  This year's FinanceU event was so successful that the number of participants doubled, with over 200 students completing the surveys.
Brett Ludwig, 2013/2014 President of the Finance Club was extremely proud of FinanceU's accomplishments.  "With this year being the second time FinanceU has put on the event," Ludwig remarked, "we were hoping that it would be bigger and better than last year.  Mission accomplished.  With Donzel Dixson [Finance Club member] on the bullhorn outside, the flow of students coming to the booth as well as Finance Club members going throughout the library to ask people questions were astounding.  We're excited to host more events in the future."  Ludwig will be graduating in a few weeks, but will leave the Finance Club in the capable hands of Heath Johnson, 2014/2015 President.