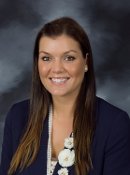 The Academic Advisor for the School of Business and Economics, Carly (Benson) Harrington, was one of 10 new inductees into the Upper Peninsula Sports Hall of Fame.  The official induction ceremony won't be taking place until May 9, 2015 at the island Resort and Casino in Harris, Michigan, but Carly is already being hailed a local hero.
Carly attended Carney-Nadeau High School, where she was an all-state basketball player and led the Wolves to a Class D state title victory as a 2001 freshman.  She was a two-time U.P. Class D player of the year, and after scoring a total of 1,864 points, she remains Carney-Nadeau's all-time scoring leader.  Adding to her high school sports resume, Carly was a four-year letterwinner in volleyball, cross country and track.
Carly went on to score an impressive 1,020 points during her career as a four-year regular on the University of Michigan women's basketball team.  She set a school record during her senior year in 2008-2009, with 192 three-point field goals.
Congratulations on your upcoming induction, Carly!