Get to know Mari Buche, associate dean of the Michigan Tech School of Business and Economics and professor of Management Information Systems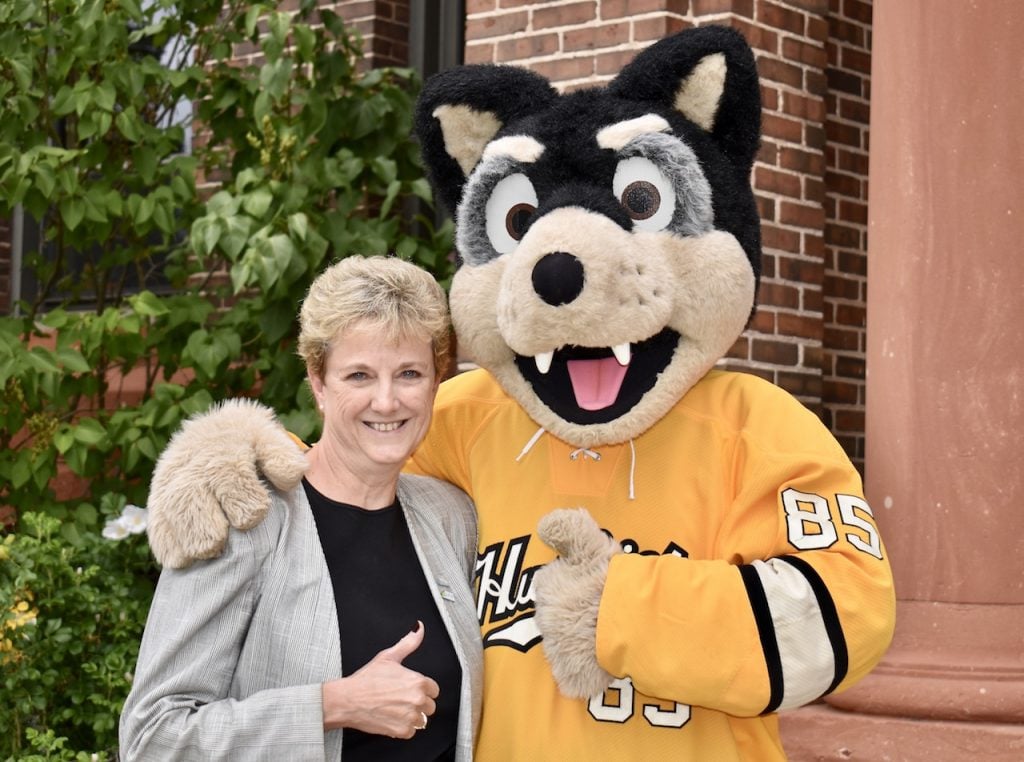 Q: Congratulations on your new role as associate dean. Can you share some of your goals or your vision for the School of Business and Economics?
My first goal is to assist the dean in preparing for the upcoming Continuous Improvement Review by the Association to Advance Collegiate Schools of Business (AACSB). I provide reports and documentation to communicate the incredible work being done in the School of Business and Economics at Michigan Tech. Essentially, I'm helping to tell our story.

The accreditation is an important barometer because it's an external assessment. It's easy for us to claim we're high quality, but when an outside agency confirms it, it adds value to our degree programs. For students pursuing graduate education, it can provide exceptional opportunities when the institutions see they are from an accredited business school. Another benefit is the Beta Gamma Sigma honor society, sponsored by AACSB. People in industry also recognize the emblem—these invited members are clearly the cream of the crop. Accreditation also highlights our connectedness to current business trends.

In addition, I see my role as supporting both faculty and staff in the department. It's important that everyone works together. Good communication is vital to our ongoing efforts.

Overall, I'd like see the School of Business and Economics work toward achieving 10 percent of Michigan Tech's student population, helping even more students become business- and tech-smart.
Q: How is the School of Business and Economics at Michigan Tech unique?
Our students stand out because we put them in teams beginning with their first year. They have more collaboration and conflict resolution skills than the people they are competing with for jobs. That's what recruiters tell me. Also, our emphasis on technology is embedded in the curriculum. Collaborating with engineering majors gives our students a technical awareness and confidence that creates unique opportunities.

Q: You have a military background. How does it inform your daily work?

My dad was in the Air Force, and I joined the Air Force as a means to get tuition funding and serve the nation. I spent five years as a missile launch officer, which helped me develop my initial technical background. I was a distinguished graduate (top 10 percent of my class) in both Titan II and Minuteman II ICBM weapon systems training. The military is a comfortable culture for me—having a chain of command and maintaining professionalism and integrity. Although academia is very different from the military, collegiality and collaboration are common foundations in both cultures.
Q: Off campus, you are active in Rotary Club and other community service organizations. What value do you find in serving the community? What makes Houghton special?
I moved to Houghton in 2003 and joined Rotary six months later. Rotary International is one of the largest international community service organizations in the world. I wanted to get connected and meet people. I am passionate about our community, and especially appreciate the way we came together following the recent flooding. To me, the University isn't a separate entity. We are intertwined with the people and programs of Houghton and Hancock. I feel like a liaison between the two circles. I've never thought of it as Us vs. Them. I grew up in a small college town in Pennsylvania, so I know what it's like to be a 'Townie'. I also enjoy learning about different cultures I experience through my work with Rotary and Rotaract (a Michigan Tech student organization).

Q: Having been nominated and received multiple teaching awards, what in your opinion makes a good professor?
Being nominated by students means a lot to me. It's validation that I am connecting to them and providing value. It's important for teachers to clearly communicate expectations and help students stretch themselves to achieve challenging goals. I incorporate a lot of personal stories and experiences in my lectures that help illustrate complex topics. I also include nuggets of professional skills like negotiating and developing effective teams. I teach students that they can do anything they can imagine, but they must be willing to work hard for it.

In my field of management information systems, you can't stagnate. It wouldn't be valuable to students to allow my teaching content to degrade—and my students would be the first to call me on it. I like attending classes and workshops at the Center for Teaching and Learning. We all have a lot of room to grow, and it's rewarding to build skills. Attending conferences, presenting my research, and reading voraciously keeps me motivated.

Q: Speaking of research, will you maintain your projects as associate dean?

Yes, in fact, I am working with colleagues from Florida State and Baylor University, looking at cultural, physical, and emotional barriers preventing women from entering—or staying in—STEM fields.

Q: Within the field of management information systems, what do you think are some of the keys to getting girls interested in STEM?
In my experience, the focus needs to be on problem-solving rather than the technology itself. Challenging problems are energizing, and using creativity to develop a solution that benefits someone brings the subject to life. When students implement their solution, and the organization is impressed with the results, that helps feed their passion. It comes down to the "Aha" moment and creating something of value. MIS offers a wide range of career paths, from very technical to more managerial or business-centric. Learning to write computer code takes some of the mystery (and fear) out of the activity. Many students are intimidated at first, but they gain confidence as they build upon their successes.
Q: You are an avid Huskies sports fan. How are MTU athletes unique?
I've always loved sports. I played soccer in college . . . we had to petition the school to form a women's club soccer team. Coming from two Division I schools, I can say that our Michigan Tech Huskies are some of the hardest-working student-athletes I've ever met. They are often natural leaders on project teams. I respect the amount of time they invest in their training, similar to a full-time employee. They demonstrate deep commitment as they strive for excellence in both academics and athletics. Without exception, they thank me for my support when I attend their events. I feel very connected to them when they compete. I am also proud of the incredible conduct exhibited by our players, coaches, and fans, even when coping with a disappointing outcome. As a group, their attitude is professional and gracious to the opposing teams and referees. A class act.
Q: You are a new grandma—congrats! When your grandson is of college-age, how will business and economics fields be different?
That's a very good question! Sam will have opportunities we can't even imagine at this moment. Technology is changing at a rapid pace. At the same time, disruptions are being created by these innovations. It is challenging on many levels. When he heads to college, the crazy pace of change will be considered 'normal'. The discussion won't be centered on managing change; it will be seen as the normal flow of things.

Commercialization of technology is quite different today than in past decades, and the pressure to reduce time-to-market is constantly increasing. Companies are expected to maintain and support older products while simultaneously developing the next generation of products. Some customers may develop 'upgrade fatigue' if changes are imposed too quickly. However, other groups will clamor for something new and exciting. It's hard to please both groups with limited resources.
Like my students, Sam will have to scan the industrial horizon and take the initiative to develop skills employers require. The greatest challenge is that employers don't even know what skills they will need in the coming years, but
Three things will always be in demand: interpersonal communication, creative problem solving, and insatiable curiosity.
If those transferable skills are combined with a positive attitude, you've got the 'secret recipe' for professional success.