By Breanna Stohr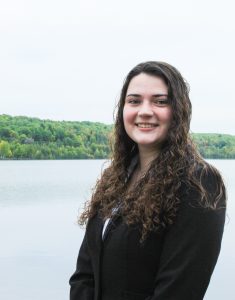 My summer internship with Bank of America in Grand Rapids, Michigan, was a memorable one. The opportunities I was given were unbelievable. I am proud to say I was able to find not only my dream job but my dream company as well!
I experienced both the retail and the wealth management side of the company. On the retail side, I worked closely with my market leader and the leader of the Student Rush program. Through this program, I traveled to Grand Rapids colleges and universities to engage them in the opportunity of Bank of America coming onto their campus to teach financial literacy to students. I connected with many student-life representatives within the Grand Rapids community area. It was great!
In the downtown wealth management office (previously branded as Merrill Lynch, the American investing and wealth management division of Bank of America), I networked with established financial advisors within the Grand Rapids area. There, I cemented my career plan to become a successful financial advisor after I graduate this spring. I worked closely with a financial advisor on research projects including bank rates, budgeting tips, digital apps, unique ways to change daily habits in your financial life, constructive criticism, and hospice and home health care.
Throughout my internship, I grew as a young professional by experiencing many different work environments. Being a student from Michigan Tech made me stand out for sure. I demonstrated to teammates at Bank of America what Michigan Tech School of Business and Economics students can do, and also how involved the University is with preparing its students for the professional world.