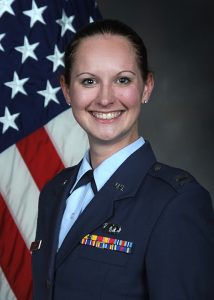 This award is presented each year to alumni under the age of 35 who have distinguished themselves in their career. The award recognizes the achievement of a position or some distinction noteworthy for one so recently graduated.
Captain Amanda (Taylor) Nerg '10 believes in leaving a place better than when you arrived.
"Your actions will affect those around you and you can be that guiding force in creating a better future for those who come after us."
For Nerg attending Tech was coming home. During her childhood, she lived near Tech while her mom served as the commander for the Air Force ROTC. "When we moved I missed everything about the area. When I began my search for a college, I only applied to one school, Michigan Tech. It was exciting to return to the place I had once called home."
Nerg received a bachelor of science degree in business administration in 2010. In 2014, she earned her master of business administration at the Naval Postgraduate School.
She says the training she received at Michigan Tech prepared her for a career in the Air Force. Her first assignment she served as a contract administrator at Grand Forks Air Force Base in North Dakota where she managed a $7.6 million architect-engineer services program.
"Michigan Tech instilled a passion for innovation and creative thinking. The Air Force ROTC program guided me to become a strong leader and follower in the military. Alpha Gamma Delta taught me the values of living with purpose and impacting the world. Every class, every extracurricular activity provided the foundation for who I am today."
Nerg is the Chief of Contracting Office at Moron Air Base in Spain, where she supports multiple Air Force, Marine, and NATO missions. While working on her master's degree at the Naval Postgraduate School, she says her analytical background from Tech calculus and statistics classes helped create her thesis on geospatial information systems (GIS) and their use in humanitarian and disaster response, developing a transportation routing model for fuels distribution.
She says she has many fond memories from Tech include meeting her husband, Steve Nerg '11. The couple has been married for more than six years.
Tech helped Nerg discover who she wanted to be. "Everything you do and have done at this university has shaped you into who you are today. Aspire to be your best and do your job with integrity and passion."