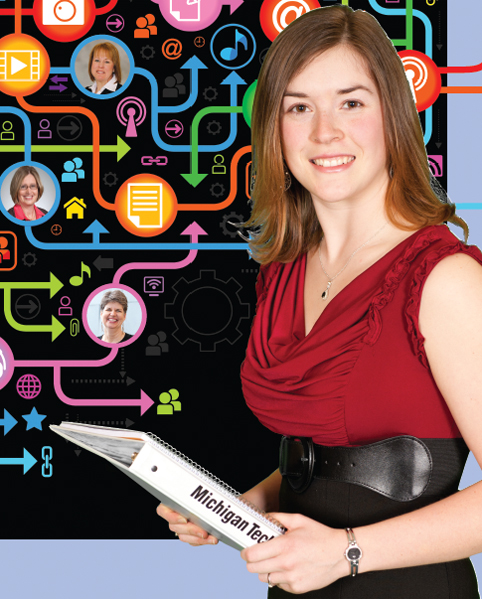 "Networking" is no more than a vague concept for many students, something they might do in a far-off professional future. For management major Caitlin Pionke, networking came into play far earlier as a crucial job-hunting tool.
Like many graduating students, Pionke started her job search in a tough, highly competitive market.
"One of my friends applied for thirty-five jobs without success," said Pionke. "I applied for two. And, thanks to networking, I got offers for both."
Pionke's networking opportunities came on the heels of her 2011 Woman of Promise award in the School of Business and Economics. Michigan Tech's Women of Promise program, which was initiated in 1999 by the Presidential Council of Alumnae (PCA), is a way to recognize a female student in each department who goes above and beyond what is expected of them. Students who win the award gain an introduction into the network of alumnae who have been recognized for outstanding professional achievements.
Pionke made full use of the opportunities afforded her as a Woman of Promise, fearlessly using the network of PCA alumnae as a support system. "During the first event, I introduced myself to PCA members, asked for career advice, and sent my résumé to everyone I met," she said. "All of the women in the network were supportive and happy to be of service. They helped me get my résumé to the right people."
Well aware of the scarcity of jobs, Pionke worked tirelessly to build on these relationships in the months leading up to her senior job fair at Michigan Tech. "You have to actively show that you are interested in the job with regular contact and follow-ups," she said. "Face-to-face connections and name recognition are important, especially when many students are applying online. You can't just click "apply" and send a résumé."
Using tools like LinkedIn, she branded herself as a strong communicator and promoted her experience as the business team leader for the International Business Ventures group, a member of the Beta Gamma Sigma national honor society, and a small business owner.
Pionke's hard work and strategic job hunt paid off. By the time she arrived at Dow Chemical's booth at the job fair, company representatives knew her by name. After several rounds of interviews, Pionke accepted a position as an information analyst in the company's IT department, which she will start in June 2012.
"The whole experience was a lesson in the importance of networking," she said. "I'd advise all students to do the same."

PCA members pictured, top to bottom, are Ellen Horsch '78, Carrie Schaller '87, and Marie Cleveland '82.
Originally published in Impact, Spring 2012.