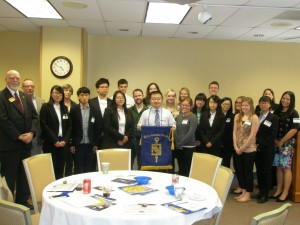 On April 13, Michigan Tech's School of Business and Economics inducted 22 members into Beta Gamma Sigma, the international honor society serving business programs accredited by AACSB International—The Association to Advance Collegiate Schools of Business.
Membership in Beta Gamma Sigma is the highest recognition a business student can receive in a business program accredited by AACSB International.
The 2014-15 recipients are:
MBA:  Brian Hutzler and Charles Ouellette
MS in Accounting:  Duan Ximeng, Judy Isaacson and Ji Zhou
Seniors:  Yinan Chen, Yi Chen, Fangliu Huang, Heath Johnson, Yudan Lurong, Arissara (Kwang) Suthijindawong, Kayleigh White, Dylan Whittaker, Yingxin Wu, Wenyu Xu and Chang Zhang
Juniors:  Abbey Halonen, Nora Pennala, Kaila Pietila, Yuxin Shao, James Sturos and Kendall Ward
Beta Gamma Sigma's mission is to encourage and honor academic achievement in the study of business and to foster personal and professional excellence and to advance the values of Society.  It is an international honor society and only selects the upper 10% of undergraduates and graduate students.
This article was originally posted in Tech Today on April 22, 2015.