About the Award
The Outstanding Man and Women in Business is awarded annually and the School of Business and Economics is confident that this year's selections represent the student body well with their efforts in leadership and extracurricular activities. Undergraduate Scholarship Committee members Anne Warrington, Mari Buche, and Carly Benson were heavily involved in the selection of this award.
"I had the good pleasure of knowing Sam Tidwell, and I'm confident he would be extremely pleased with this year's selection of the Tidwell Outstanding Man and Woman in Business," said Eugene Klippel, Dean of the School of business. "Both students demonstrate high academic performance combined with proven leadership capabilities.  Thus, on behalf of the School, I wish to congratulate Nathan and Sara on their receipt of this award."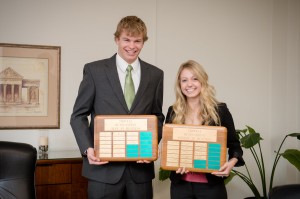 Nathan Sturos and Sarah Ochs are recognized as the 2012-13 recipients of the Sam B. Tidwell Outstanding Man and Woman in Business. This award is given to students who bring honor and pride to the School of Business and Economics through high scholastic achievement and involvement. Students eligible for this honor went through an intense interview process that included an essay and interview with faculty.
Mari Buche of the Undergraduate Scholarship Committee added, "Sarah and Nathan exemplify the qualities inherent in this prestigious award. They excel at their academic studies, demonstrate strong interpersonal communication skills, and serve as leaders both within the department and in the greater community. Their work ethic, integrity, and overall commitment place them at the top of their class. The School of Business & Economics faculty has high expectations for their career success after graduation. Without a doubt, they are true role models on campus."
Outstanding Man in Business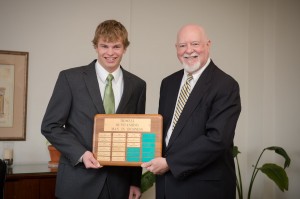 Nathan Sturos is a senior in the School of Business and Economics who will graduate as a double major in Accounting and Finance next spring. In his time on campus he has been President of the Finance Club, Treasurer of the Entrepreneurship Club, and member of Kappa Sigma Iota Accounting Club where he helped with the Volunteer Income Tax Program. This year Nathan was inducted into the International Honor Society Beta Gamma Sigma, and has also served on the Dean's Student Advisory Council for the last two years. Nathan has a high level of professionalism that made him a strong candidate and the recipient of this award.
Outstanding Woman in Business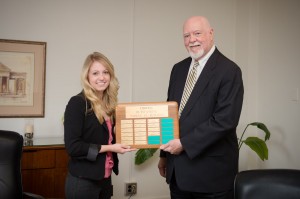 Sarah Ochs is a senior, Marketing major, who will graduate in December of 2013. An extremely involved student, Sarah served as the President and founder of the DECA chapter in the School of Business and Economics. She has served as a representative on the Dean's Student Advisory Council for the past four years. Utilizing her networking skills, Sarah has been one of our most successful business students at the career fair completing internships at Caterpillar and Mercury Marine. Sarah has proven to be an outstanding student within our school and was one of the strongest candidates we have ever had for this award.
When asked about the selection process, Buche noted "the selection process was very difficult this year. All of the finalists were exceptional candidates: strong academic GPAs, demonstrated leadership skills, and clear commitment to the improvement of the school and Michigan Tech." Other finalists for this year's award included: Brett Ludwig, Frank Kampe, and Troy Hecht.