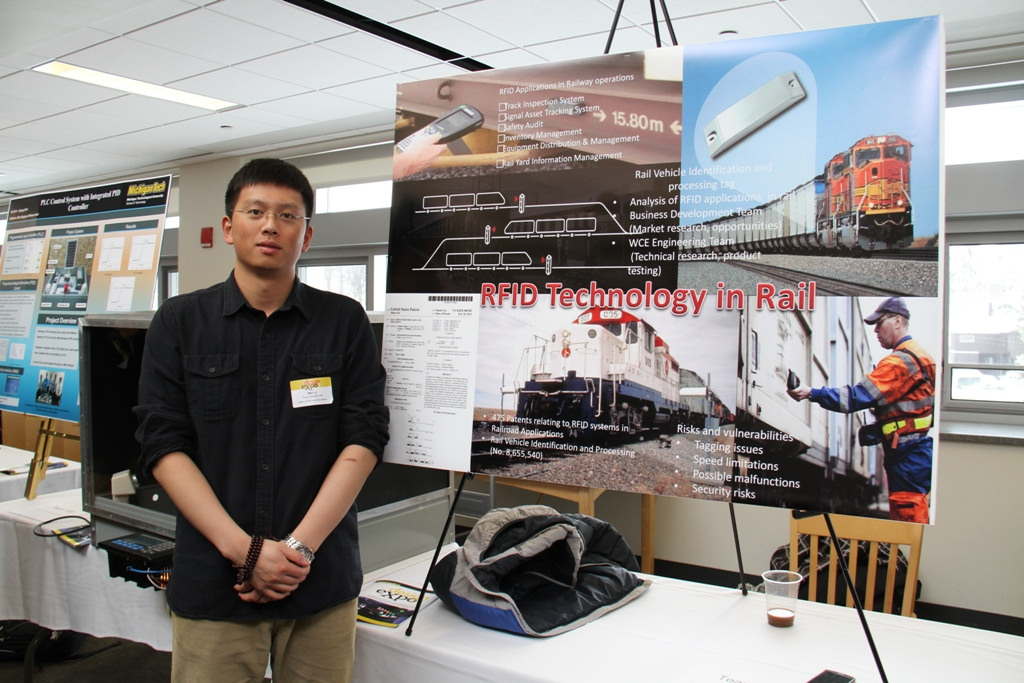 A team from the Business Development Experience Course (BUS 4992) tied for second place in the category of Design Expo Image Contest, in 2014's Design Expo.  This accomplishment is particularly impressive, as over 600 Michigan Tech students across all disciplines competed in this year's hands-on, discovery-based learning program, hosted by the Institute for Leadership and Innovation and the College of Engineering.
The team, titled "Balise and RFID Use in Rail Systems," consisted of members Frank Kampe ('14, BS in Marketing), Min Li ('14, BS in Operations and Systems Management), Daniel Holmberg ('14, BS in Management), and Kevin Heras (projected graduation: Fall 2014, majoring in Management).  In order to participate in the Design Expo, team members took the Business Development Experience two-course sequence, where business school students ascertain the commercial viability of potential projects.  Since the implementation of the courses, business school students have been teaming up with the Enterprise and Senior design project teams to look at their technologies from a business perspective.
Team Advisor and Assistant Professor of Entrepreneurship and Innovation, Saurav Pathak, was pleased with his students and the work they conducted.  "This group in particular made valuable recommendations to Technical Expert Network (TEN) on how to expand the use of Radio Frequency Identification (RFID) technologies in the US rail industry," Pathak remarked.  He added, "The fact that business school students were placed as award winners in an event that predominantly highlights the technological feats at Michigan Tech is proof that there is value in ascertaining the business prospects of these technologies."
Congratulations to the team on their award!