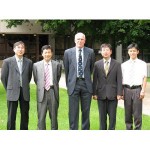 On July 23 and 24th, four visitors from South Korea visited the Department of Chemical Engineering to meet with Daniel Crowl, Professor of Chemical engineering, David Caspary, Manager of Laboratory Facilities and Allen Niemi, Director of Occupational Safety and Health.  The purpose of the trip was to examine the department's laboratory safety program.  They would like to use the chemical engineering program as a model for improvements in laboratory safety in South Korea.
The visitors included I. Park of the Ministry of Science and Technology, and Y. Jo, S. Jung and D. Yang of the Korean Gas Safety Corporation.
The visitors will continue to work with the department on joint programs to the benefit of both.
An International Research Exchange Agreement already exists between Michigan Tech and the Korean Gas Safety Corporation."