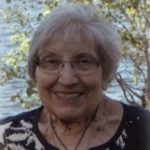 Professor Emerita Gladys Dawson passed away Jan. 3 at the age of 93. She taught in Tech's Chemistry department from 1963 until her retirement in 1985.
The New Jersey native received her bachelor's (1946) and PhD (1951) in chemistry from the University of Illinois in Champaign-Urbana. In 1963 she and her husband, the late Donald Dawson, a mathematics professor and researcher, accepted positions at Tech. The spousal hire, may or may not have been the first at Michigan Tech, but nonetheless, was unusual for the time.
Dawson's son Tim recalls, "Dad was hired as a full professor and mom as an associate despite similar credentials. Mom was granted full professor status, but many years later."
Tim Dawson says his mother was a pioneer of sorts. "My mom was very unique as a woman in a hard science at a time when it was pretty rare."
Carrie Richards, Michigan Tech's manager of Partner Engagement, was a student of Dawson's in Freshman Chemistry. "She was very smart; a good role model and mentor. I really admired her. Later she became a friend and neighbor," Richards says. "Through her actions, she taught me about community involvement and the rewards of volunteering locally."
Another former student shared an inspirational story as the 2011 Midyear Commencement speaker. Chang K. Park '73, told of how as a first-year student from South Korea still learning English, he failed Myron "Doc" Berry's legendary introductory chemistry class. Park told the commencement audience triumph came in the form of another professor … Gladys Dawson.
"She made it so interesting and easy. Some people said it was because I was taking it a second time, and I'd say 'Not true, I didn't learn anything the first time.'" Park said.
Tim Dawson says his mother did not give out "free grades," but unlike her late husband, who passed away in December, 2015 at the age of 90, she wasn't "feared" either.
"She was fair, and I remember many a night with her processing exams in the basement of the MEEM and her subsequently doing analysis of questions to ensure the tests were both fair and not confusing and to ferret out any cheating."
In addition to fairness and clarity, her exams became memorable for other reasons. "One of the other things she did in later years was to show up to give an exam in a witch's costume," Tim said. "I think the Lode ran a commentary along the lines of, 'We suspected it all along.'"
Dawson was a member of the American Chemical Society and the Alpha Gamma Delta Sorority. She was also very active in the Pine Mountain Music Festival for many years.
In 2011 the Dawsons established the Dr. Gladys Q. Dawson and Dr. Donald E. Dawson Endowed Scholarship. The purpose of the scholarship is to provide financial assistance to students who have achieved at least sophomore status and are majoring in science, technology, engineering or math (STEM).
A memorial service will be held a 3 p.m. tomorrow (Jan. 11) in the ballroom of the Bluffs in Houghton. There will be no visitation. The O'Neill-Dennis Funeral Home is assisting with the arrangements and online condolences can be left on their website.
Memorials in lieu of flowers may be directed to Little Brothers~Friends of the Elderly, 527 Hancock Ave., Hancock, MI 49930 or to the Pine Mountain Music Festival in the name of Gladys Dawson.