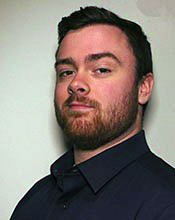 Zack Metiva, a fourth-year Computer Network and System Administration (CNSA) major, is running for Winter Carnival Queen. Michigan Tech students can vote for Metiva on the Winter Carnival website at https://www.mtu.edu/carnival/2020/#home. Voting closes on Friday, January 31.
"I'd love to be your Winter Carnival Queen. I'm President of IT Oxygen Enterprise and the social chair of the drumline at Michigan Tech. I'm a fourth-year Computer Network and System Administration major and over the years I've grown to enjoy the snow. I love waking up in the morning and seeing a fresh dusting everywhere I look. My favorite winter activity is skiing and that constant supply of fresh powder makes Mont Ripley one of the best places to ski north of The Mighty Mac. Winter Carnival is a celebration of that snow as well as all of the great feats students at Michigan Tech can accomplish with it during some of the most brutal months of the year. I think that as long as they use their head and eat some bread, watch out for their friends, and stay hydrated — that means water — anyone should be able to feel like royalty during Winter Carnival. If you agree, vote for me. I'd like to thank the Huskies Pep Band, the most progressive drumline in the Keweenaw, for sponsoring me in this competition."
Metiva's candidacy is sponsored by the Huskies Pep Band and Swift True Value Hardware, Houghton.