---
It was five years ago, in 2015, when Leidos and Michigan Tech representatives started talking about equipping the Electrical Machinery and Controls Lab with new Amatrol learning stations.
It took some time, but in 2018 a generous gift from Leidos got things started. The lab space–on the 4th floor of the Electrical Energy Resources Center (EERC)–was expanded and refurbished, the electrical was upgraded, and the cost of the new work stations was considered.
"It wasn't enough to do all we wanted to do," said Dale Rimmey, director of college talent acquisition and solutions at Leidos, "so we talked some more, and eventually we were pleased to double our original gift."
"This lab was a long time coming, and along the way we developed some great relationships with our industry partners," said Adrienne Minerick, dean of the College of Computing. "Everything came together because Leidos and Eagle Mine believe in the quality of Michigan Tech education, and because an investment in qualified people assures a great future for our students and for all concerned."
With the second Leidos gift in 2019, the EET and MET programs were able to complete the lab refurbishment and install six new state-of-the art learning stations in time for the fall 2019 section of Electrical Machinery (EET 2233).
Four of the learning stations and lab renovations were funded by Leidos, one station was funded by Eagle Mine, and one was purchased by the former Michigan Tech School of Technology.
This week, Leidos representatives were on campus to celebrate the completion of the Leidos Electrical Machinery and Controls Lab, and to participate in Career Fair. Leidos representatives attending were Dale Rimmey; Mike Cooney '01 (BS, EET), project lead; Jessica Hutchings '15 (BS, EE), controls engineer; Matthew Luttinen '10 (MS, EE/Power Systems), electrical engineer; Kate Nowosad, '17 (BS, EE), substation design engineer.
More than anything, Dale Rimmey is excited for the students who will benefit from the gift. "This is a great opportunity to support Michigan Tech students and at the same time build a larger pool of talented, well-trained future employees for Leidos and the industry as a whole," he said.
Required for all EET and MET students, EET 2233 is a crucial building block in the study of electrical and mechanical engineering and mechatronics.
"In mechatronics, students learn to appreciate the electrical, mechanical and computing side of hardware equipment," said assistant professor Nathir Rawashdeh, CMH Division. "Selecting and controlling electrical machines are prime examples of this, and the new learning units and exercises provide all the tools students need to thoroughly understand these subjects."
Students in last fall's section of the class were the first to use the new learning stations, thanks to EET senior Zarek Pirkola and his fellow lab assistants, who assembled and tested the machines in time for the second half of the fall 2019 semester.
The new equipment also led to revisions in the hands-on lab exercises that accompany the Electrical Machinery course; units related to emerging topics, motor control, and troubleshooting were added.
"It was a race against time to get the machines ready for the eight-week motors unit last fall," Pirkola said, adding that the curricula included with the units helped a lot. Pirkola was among the last students to use the old lab and equipment.
"The new equipment and curricula broaden the scope of laboratory exercises, and allow us to cover the more advanced control circuits used in operating larger electrical machinery," said Alex Sergeyev, CMH Division professor and director of the Mechatronics graduate program.
"The knowledge and experience students gain means better-educated graduates with more practical hands-on experience," said Sergeyev. "The design, configuration, and troubleshooting of industrial control systems is central to today's industry, and the new Amatrol work stations are key to building the foundational knowledge future leaders in the field will need … with obvious benefits to employers of our graduates."
Before the new Leidos lab was outfitted, EET 2233 student exercises were conducted on outdated, unreliable equipment, noted lecturer Paniz Hazaveh, College of Computing. The new units are more compact and they're equipped with a number of safety features, including lower voltage and an emergency shut off, she explained.
With an average of 45 students enrolling in EET 2233 each fall semester, there is more to be done. Leidos has already started the wheels turning for a third gift to purchase additional units, and now there is plenty of space in the new lab.
Also among those attending the celebration were Adrienne Minerick, dean, College of Computing; Dan Fuhrmann, chair of the CMH Division; Nathir Rawashdeh, assistant professor, CMH Division; Rick Berkey, professor of practice, Pavlis Honors College; Jim Desrocher, director of advancement; Cody Kangas, director of industry engagement; and a number of graduate and undergrad students.
About the Partners
Serving the business intelligence, health, IT, defense, and civil sectors and with more than 400 locations in 30 countries, Leidos is a global leader in the integration and application of information technology, engineering, and science.
Amatrol designs, develops and manufactures technical training systems and simulators for industry and academia to teach technical and workplace skills ranging from entry level basic technical skills to advanced technology troubleshooting for degree and certification preparation.
Amatrol's Basic Electrical Machines Learning System teaches electric machines commonly found in industrial, commercial, and residential applications: single phase AC motors, three-phase AC electric motors, and DC electric motors. Learners practice industry-relevant skills including operation, installation, analyzing performance, industrial motor wiring, and selecting electric machines for various applications.
Eagle Mine, a subsidiary of Lundin Mining, is an underground, high-grade nickel and copper mine located in western Marquette County of Michigan's Upper Peninsula. Lundin Mining is a diversified base metals mining company with operations and projects around the world.
The Michigan Tech College of Computing prepares students for lifelong prosperity and employability through relevant, contemporary academic programs in computing and cyber-technologies. The College offers graduate degrees in Computer Science, Cybersecurity, Health Informatics, and Mechatronics; and undergraduate degrees in Computer Network System Administration (CNSA), Computer Science, Cybersecurity, Electrical Engineering Technology (EET), and Software Engineering.
The College of Computing's CMH Division–Computer Network and System Administration/Mechatronics, Electrical, and Robotics Engineering Technology/Health Informatics Division–brings together faculty and programs in the College of Computing that share a common interest in applied aspects of computing. The areas of study within the Division–computer networks, cybersecurity, robotics, big data–provide Michigan Tech graduates skills that are in high demand, now and in the future.
Enjoy the photo gallery below.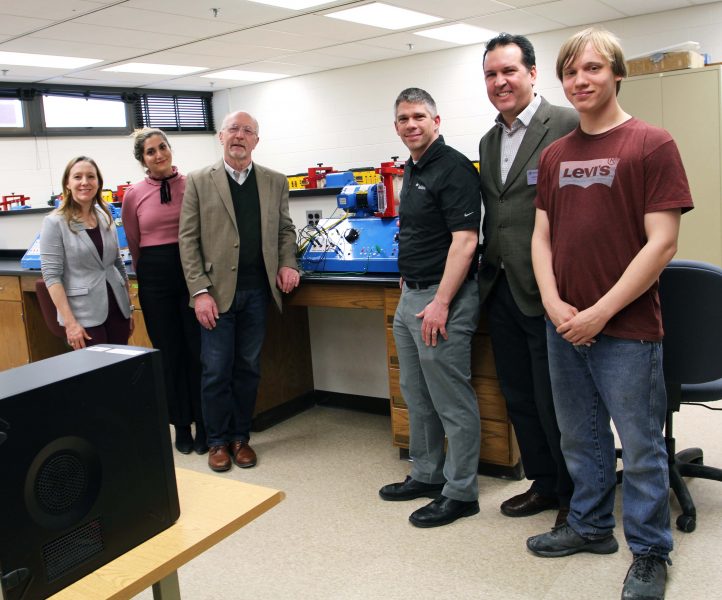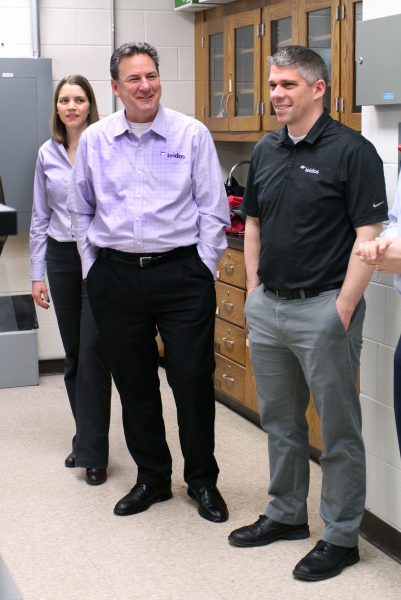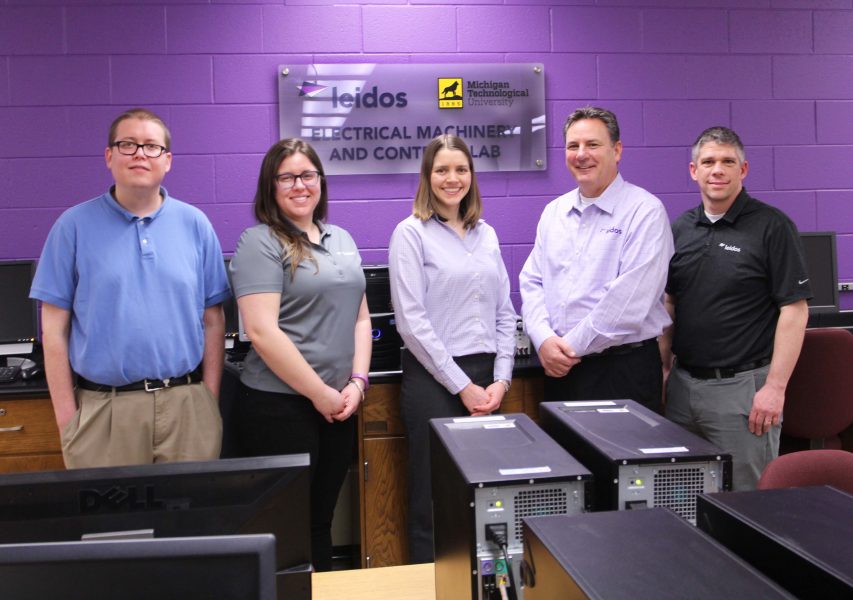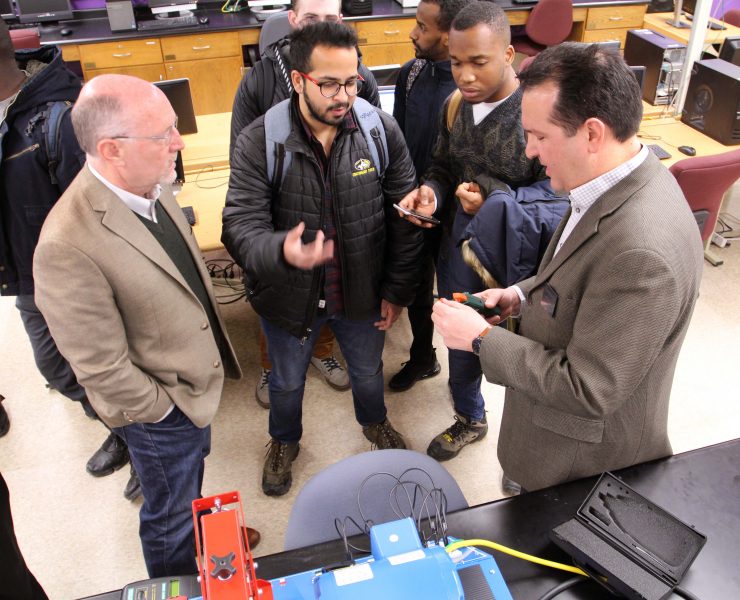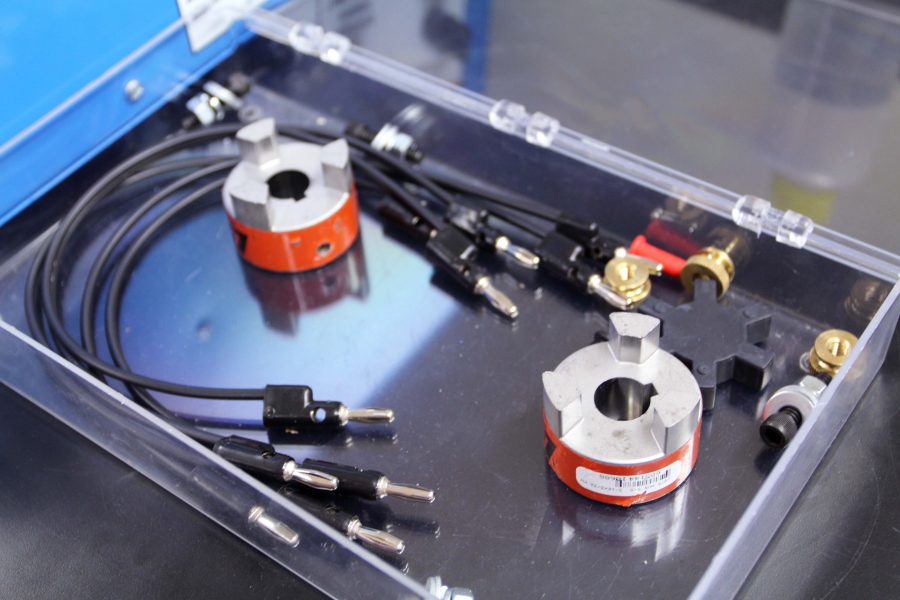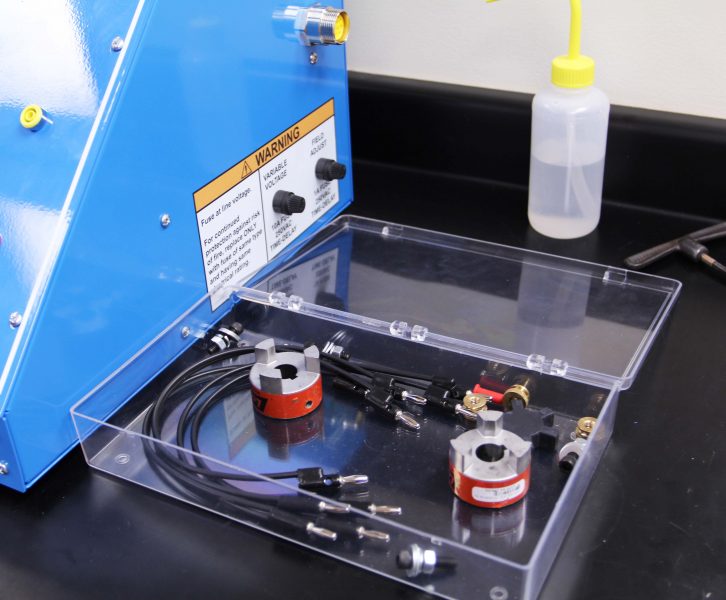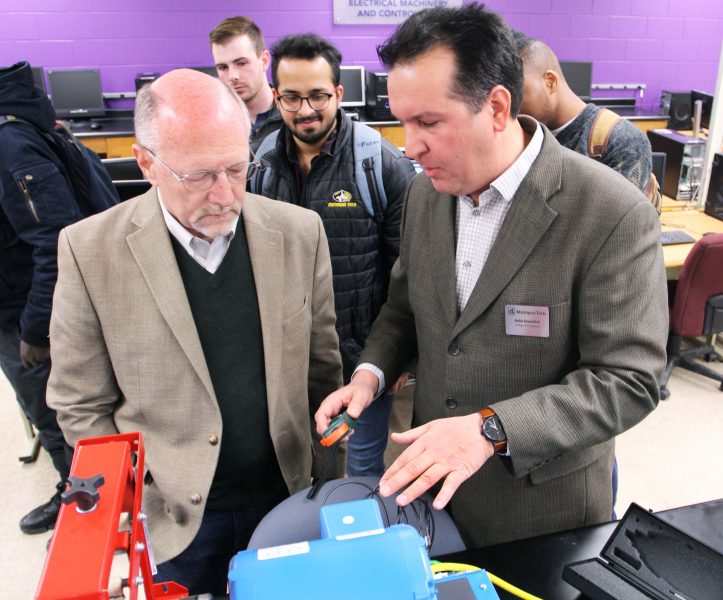 Dan Fuhrmann (left) with Nathir Rawashdeh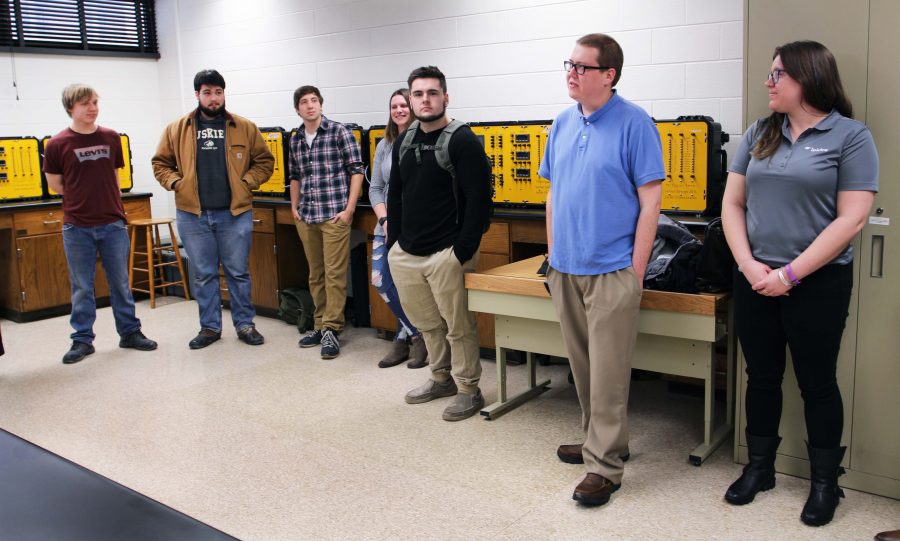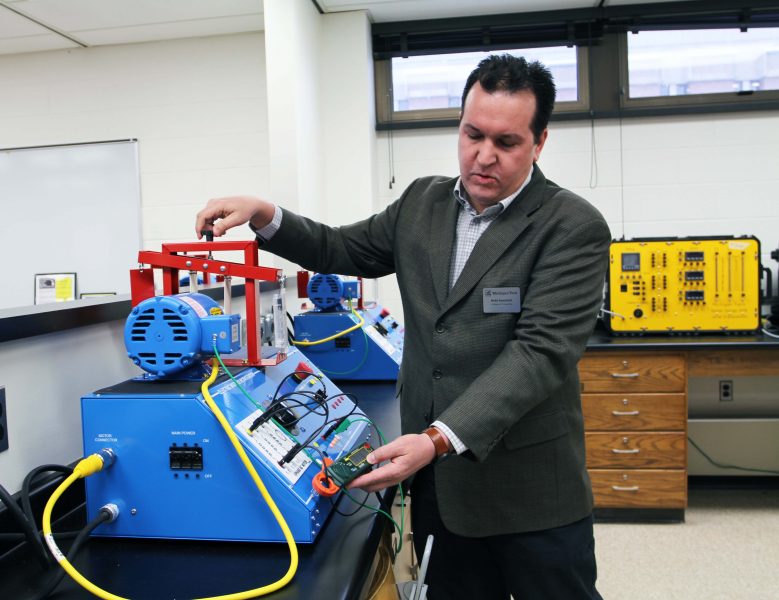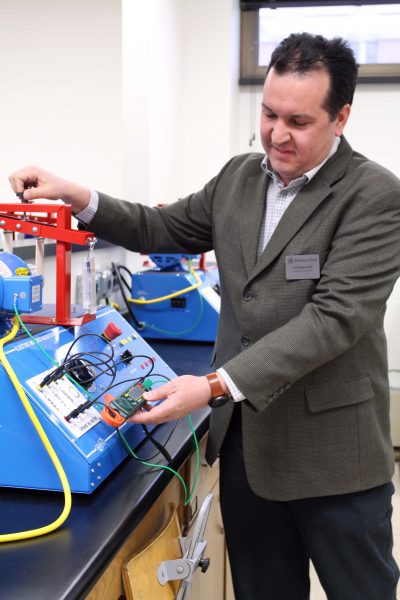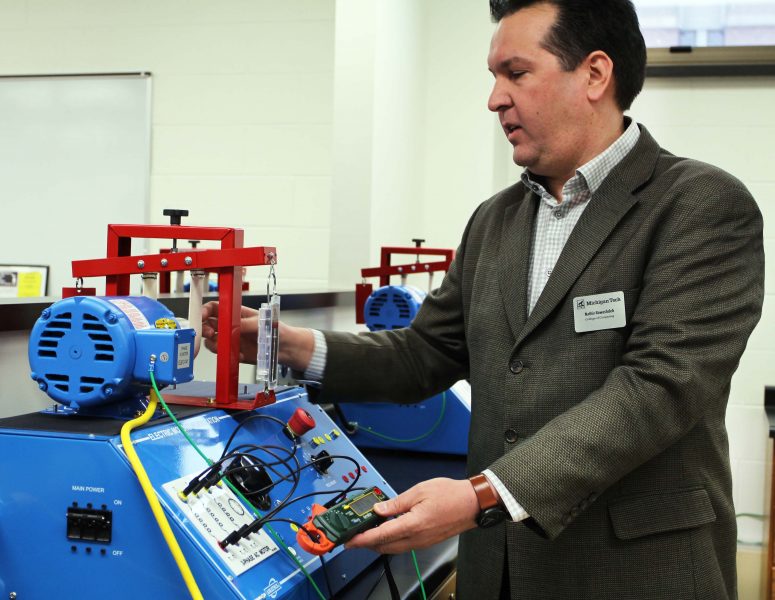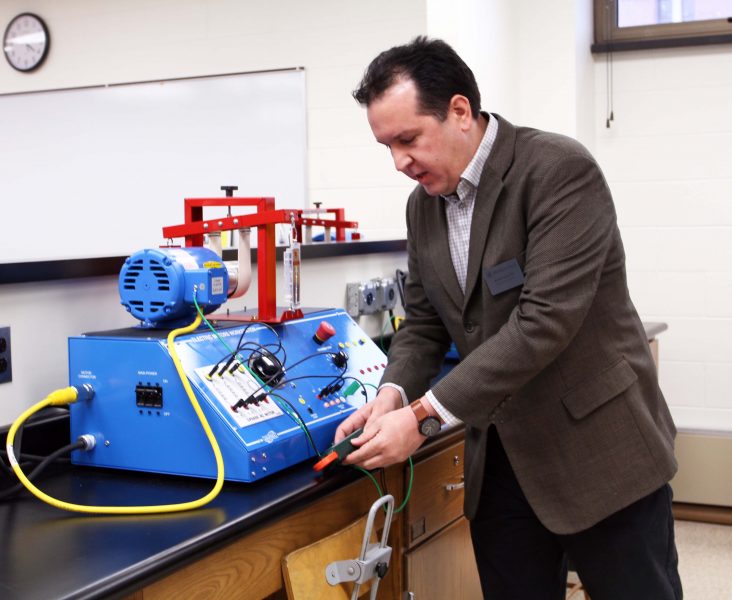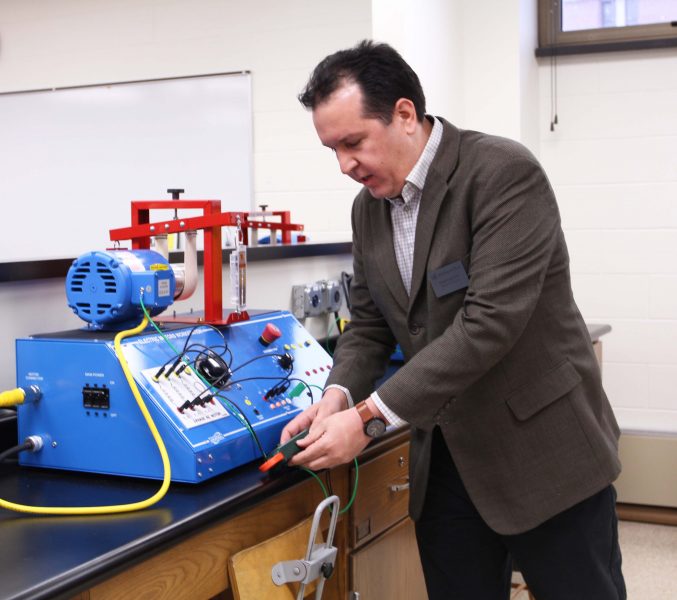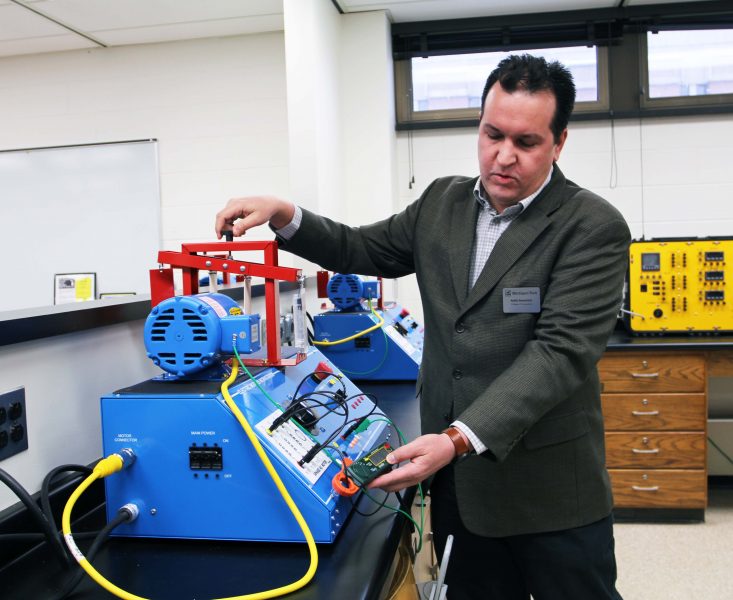 Nathir Rawashdeh demonstrates the learning unit