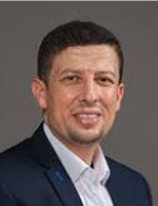 The College of Computing Department of Applied Computing invites the campus community to a lecture by faculty candidate Saleem Ashraf on, April 7, 2020, at p.m., via an online Zoom meeting.
Dr. Ashraf is currently an assistant professor of mechatronics engineering in the ECE department at Sultan Qaboos University, Oman. He received his Ph.D. and MSc. degrees in mechatronics engineering from DeMontfort University, UK, in 2006 and 2003, respectively, and his BSc. in electrical and computer engineering from Philadelphia University, Pa., in 2000.
Ashraf's research interests are unified under the theme, "developing real-time smart controllers for different engineering systems," and his research investigates electromechanical, electro-pneumatic, and piezoelectric based systems.
Advancements in field of unmanned vehicle system, artificial intelligence, and computer vision have empowered the integration of solutions that would potentially automate many processes.
Ashraf's seminar presents his research experience in the field of smart and vision-based unmanned vehicle systems, and how this technology has been employed to solve real-life problems in Oman.
The talk will present a selection of Ashraf's fundamental research work focused on the modeling and control of long-stroke piezoelectric actuators, which are being used widely in micro positioning systems. He will also share his experience in the establishment of the "Embedded & Interconnected Vision Systems" (EIVS) lab.
The second part of Ashraf's talk will cover his teaching experience, including philosophy, courses, new courses, extracurricular activities, and practical projects. He will present his methodology in supervising multi-disciplinary final year projects with some examples of completed projects. Finally, Ashraf will discuss his ideas about how he can contribute to the Michigan Tech curriculum at all levels, undergraduate and graduate.
Ashraf has been awarded external research grants totaling more than $450K, and three internal grants totaling $58K; he attributes his success in this regard to his development of excellent relations with local industry and the Omani research council (TRC). The common aim of these research projects is to develop vision-based unmanned vehicles to solve real life problems such as oil spill in seawater.
He has published more than 45 peer-reviewed papers in reputable journals and at international conferences. He is one of the founders of the "Embedded & Interconnected Vision Systems" (EIVS) lab at Sultan Qaboos University, which was inaugurated this March and funded by BP Oman. The lab hosts equipment for Embedded Vision Systems, Artificial Intelligence (UVS / Robotics), and IoT.