By Karen S. Johnson, Communications Director, College of Computing and ICC
Read Part II, A Supportive and Wise Network
PART I | THE FAST TRACK
A Profile of Dr. Jason Hiebel: The College of Computing's First Graduate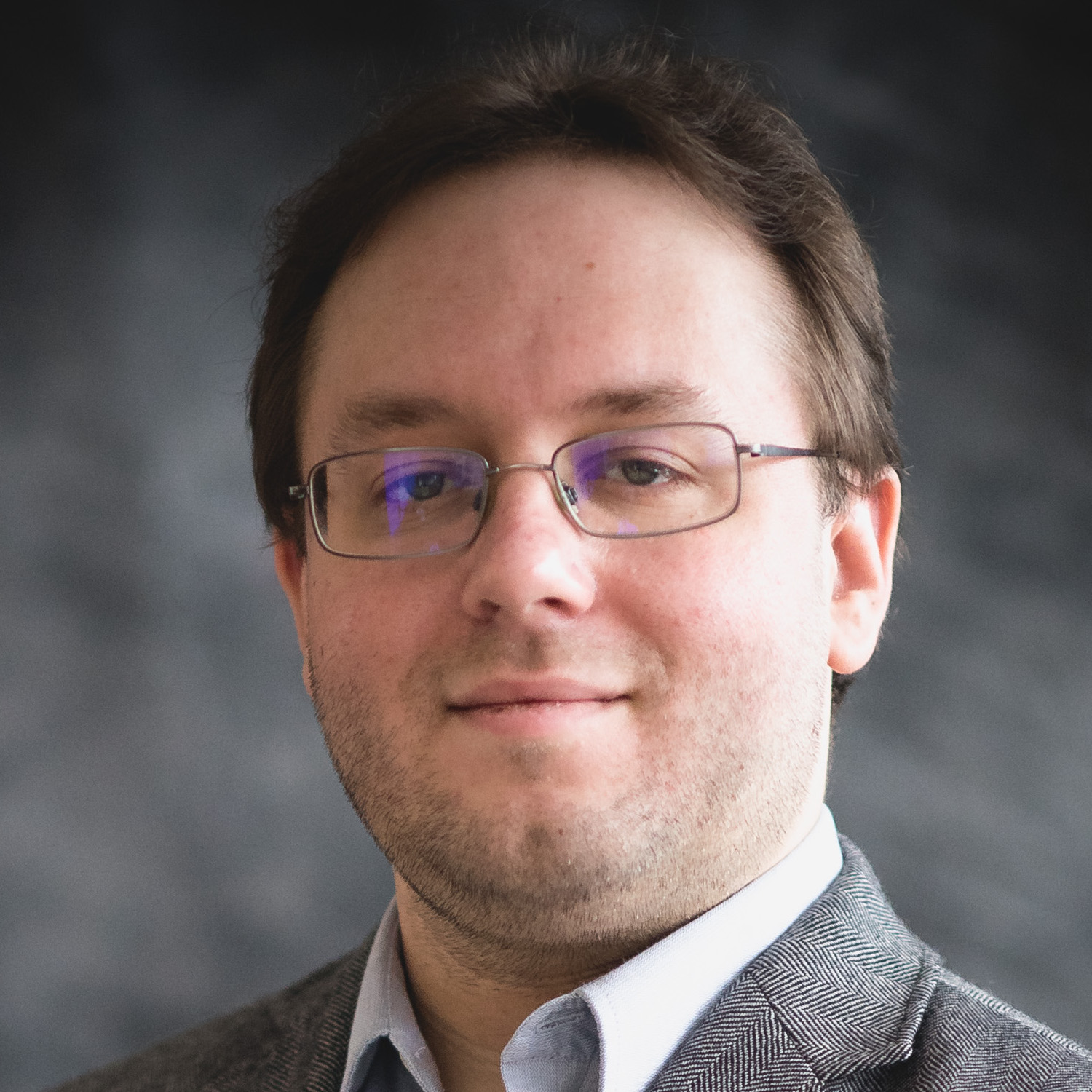 In fall 2007, Jason Hiebel enrolled in his first semester at Michigan Tech. He's been studying, teaching, and researching computer science and mathematics at Tech ever since, participating in December 2019 Commencement ceremonies. Shortly after, he successfully defended his dissertation and was awarded his Doctor of Philosophy in Computer Science, the very first from the College of Computing.
"Graduating when I did, and becoming the first Ph.D. for the College of Computing, was really a fluke of timing," Hiebel says. "But after all my time here in Houghton and with the Computer Science department, I am pleased to have the honor of being the college's first Ph.D. It's something that can be mine and mine alone, and I'm okay with being a little bit greedy about it!"
Husky Tenacity
Hiebel grew up north of Green Bay, Wis., and attended Bay Port High School, where he was active in the chess club and the marching band.
He says that during high school, "I was also the kind of person to push for opportunities far beyond those normally available. For example, while our school did offer some computer science courses, they were mostly self-taught in a small computer lab. But I wanted to be a computer scientist, and I wanted to be a professor—even if I lacked an understanding of what that truly entailed at the time."
So, he pushed himself to complete the entire computer science curriculum before the end of his sophomore year, then took the AP exam. Following, Hiebel continued with the curriculum thanks to the State of Wisconsin, which paid for him to complete several computer science courses at the University of Wisconsin Green Bay.
"These were not opportunities that were typically available to me or anyone else at Bay Port," Hiebel notes. "I had to fight for these opportunities, with the school and the state. But that Tenacity is exactly what Huskies are all about, right?"
All in all, Hiebel says he started at Michigan Tech as a junior in the Computer Science department and as a sophomore overall.
The Fast Track to Teaching and Research
During his first few weeks at Michigan Tech, Hiebel's sole major was Computer Science. But soon, he began to pursue a double major in another field he enjoys: mathematics.
Hiebel completed his B.S. in Computer Science in summer 2010, and while he was finishing his B.S. in Mathematics, he dual-enrolled as a graduate student in Computer Science. He completed the Mathematics B.S. a year later, and in spring 2012 he received his Master of Science in Computer Science.
In pursuit of his Ph.D., Hiebel was supported by graduate teaching assistantships (GTA), teaching assistantships, and graduate research stipends (GRA). He spent several summers interning at MIT Lincoln Labs, the Department of Defense, and the Michigan Tech Research Institute (MTRI).
"As a GTA, I did my fair share of grading and also led the lab sections for the introductory courses for three semesters," Hiebel explains. For two semesters, as an instructor, he taught the accelerated introductory programming course (CS1131) and the undergraduate AI course (CS4811). Some semesters he was both a GTA and an instructor. Finally, with the support of his advisors, Hiebel was able to advance his research full time with a GRA stipend.
As a master's student, Hiebel worked on developing tools for AI education with Laura Brown and another graduate student. As a Ph.D. student, his focus was on building his dissertation research under graduate advisors Laura Brown and Zhenlin Wang.
"Jason's research applies machine learning to computer system optimization. He has become an expert in both fields," says Professor Zhenlin Wang, Computer Science.
"The nature of this type of research makes it very challenging for a student to focus, as it requires continual effort and extended skills," Wang adds. "Throughout his Ph.D. study, Jason consistently demonstrated diligence, perseverance, and creativity. For these reasons and others, Jason has always been a stand-out among our graduate students."
In his dissertation, Hiebel investigates the application of online machine learning methods, particularly multi-armed bandit methods, to performance optimization problems in computer systems.
"Computers offer a myriad of configurations for customizing how the system performs. Depending on what you run on the system, different configurations can have a drastic effect on performance," Hiebel explains. "Ideally, we would like to match the configuration to the workload, but doing so requires a broad expertise of how different components of an individual system interact."
"My work focuses on modeling this type of configuration problem and uses artificial intelligence to automatically, without human intervention, select the best-performing configurations for a given workload."
Looking Ahead
Hiebel signed on to instruct some spring 2020 semester courses for the Computer Science department while he waited on his paperwork to process for a job with the Department of Defense. "With the growing pains of the new college, there was a need for a few more people to teach and I was happy to lend my experience," he says.
But like many in the wake of the global pandemic, Hiebel's plans are in flux right now. He's teaching a Summer Track A course at Michigan Tech, and advising an undergraduate research project, as well.
"Mainly, I'll just be waiting for things to open back up so I can get processed for the job I'm waiting for," Heibel says. "During that limbo, I hope to tackle some research problems and continue to keep myself busy."
Hiebel says that in the short term, he is hoping to lend his expertise to government research. But in the long term, his aspirations are to return to academia.
"Only time will tell where I end up," he muses. "But wherever I do end up, I think I will be happy if I'm working on interesting problems and using the skills and knowledge I gained as a Ph.D. student here at Tech."
In the meantime, Hiebel enjoys living in the Houghton community. He's a big fan of winter, and even Houghton summers are far too warm for his tastes. "Small town life suits my sensibilities better," he confirms.