---
The College of Computing has announced the special recognition of eight Class of 2021 graduating seniors in the Applied Computing and Computer Science departments. Please join us in congratulating these exceptional graduates!
Computer Science
Link to the Applied Computing Special Recognition awards.
Vic Felton, CS, Excellence in Teaching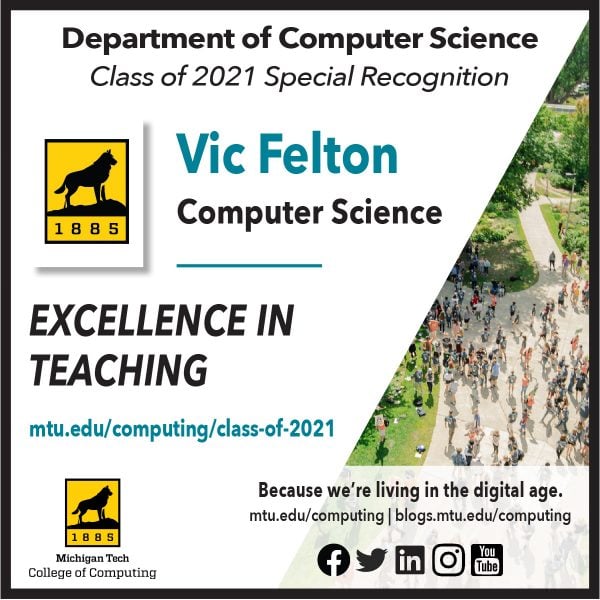 Vic was a standout Lab Assistant in the CS1121 Introduction to Programming course, helping first-time programming students one-on-one in a lab setting that was made even more challenging by COVID-related restrictions.
CS1121 instructor Prof. Briana Bettin describes Vic as "patient and persistent" and adds that his teaching style "has consistently led students to discover the answers to their own questions."
---
Sarah Larkin, CS: Excellence in Research and Teaching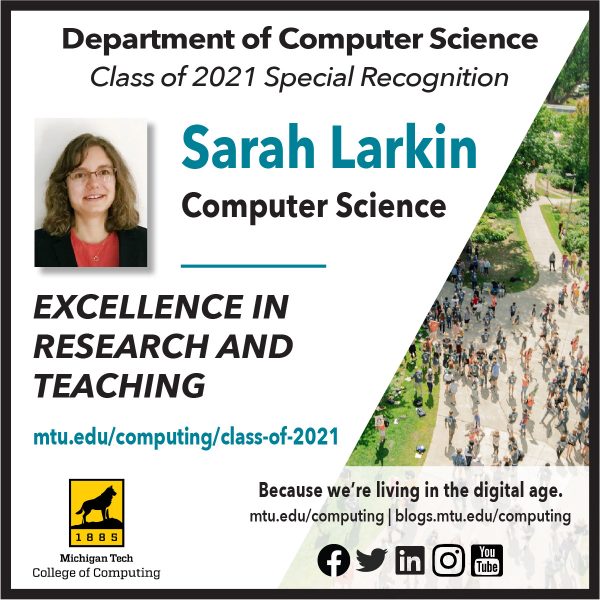 Sarah was supported by the National Science Foundation, through a Research Experiences for Undergraduates (REU) grant, on a project with Prof. Soner Onder to develop a new processor design.
Sarah was also a dedicated and effective Lab Assistant for CS1121, and a longtime contributor to K-12 computer science teaching through WiCS (Women in Computer Science), NCWIT-sponsored Aspire-IT workshops, and Copper Country Coders.
Prof. Briana Bettin says that Sarah "blends curiosity, passion, leadership, and dedication to perfection." From prospective students and undergraduates she mentors to graduate students and faculty she works alongside, her ethics and devotion are unparalleled and unforgettable.
---
Alec Rospierski, SE: Excellence in Leadership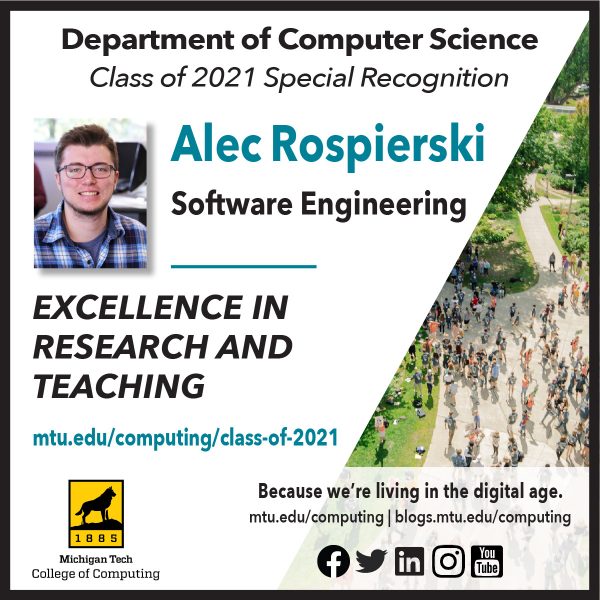 Alec led a Senior Design team in developing the Micro:bit app, allowing middle and high school students to conduct science experiments online. This project was a collaboration between Michigan Tech and Washington University in St. Louis.
He also served as team leader in the User Interface course in developing an app allowing middle and high school students to conduct simulation of the spread of COVID and other infectious diseases.
---
Katie Schmidt, SE: Excellence in Leadership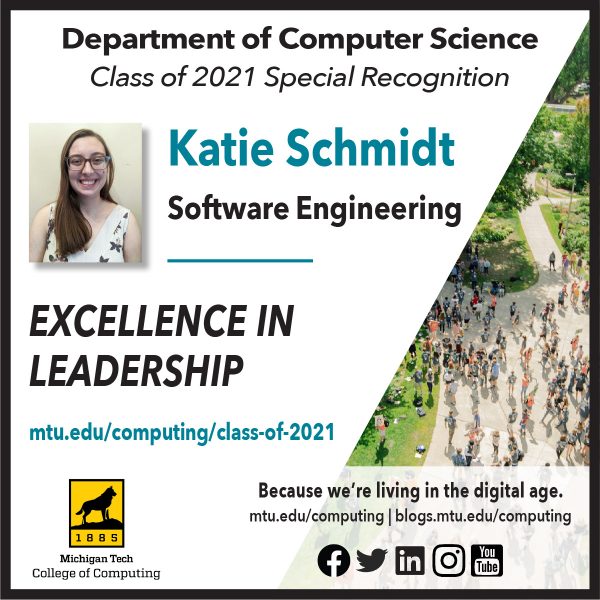 Katie served as President of the Copper Country Coders student organization. This group works with local middle and high school students, providing small-group courses in computer science and programming.
Under her leadership, Coders made great strides in developing a sustainable organizational structure, recruiting new members, and creating an engaged community of student instructors through reflection meetings and social events.
Prof. Charles Wallace, faculty co-advisor of Copper Country Coders praises "Katie's ability to lead in an inclusive and compassionate way that inspires others."