---
by Cyndi Perkins, University Marketing and Communications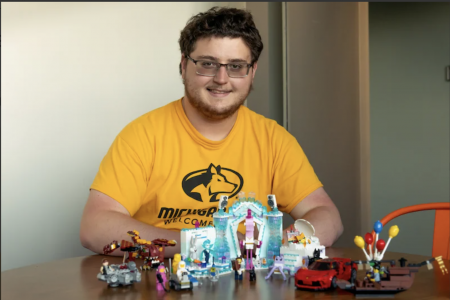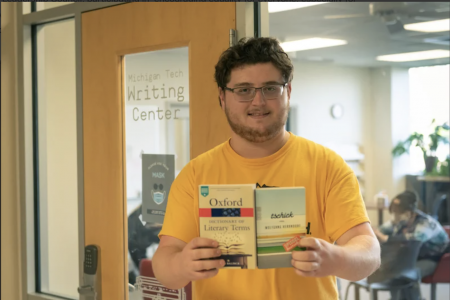 I'm an AFOL, part of the growing community of adult fans of LEGO®. I bought my first, a Star Wars set, when I was 6. I enjoyed how each brick clicked together and changed depending on how it was placed. One minute, a slope brick was a roof shingle. The next, it was the top of a space reptile.
The infinite capabilities for rebuilding and the universal appeal still draw me. As someone on the autistic spectrum, my interests change frequently, from space and castles to Harry Potter and Pirates of the Caribbean. But LEGO products cater to each of my changing interests and encourage me to build beyond the instructions. It's a toy I've never grown out of because it grows with me.
My university experience has also been one that explores all the possibilities, and I've learned to hold on to my values and make time for hobbies and causes that matter to me. Initially drawn to Michigan Tech as a computer engineering major through my mechatronics courses at the Kent Career Technical Center in high school, I began realizing what my true interests were through editing and nature writing courses. I fully transitioned to an English major in summer 2020, with minors in writing, computer science and German. Since I faced the truth that I didn't want to code for a living, I've found much more pleasure in schoolwork, connected more fully with my professors and peers, and become more active in my department. I work in the Michigan Tech Writing Center. In Room 107 of Walker Arts and Humanities, you'll find our team of coaches helping clients with any kind of writing they bring — everything from resumes to cover letters. We even had a student bring in a Tinder bio (unfortunately, I wasn't the coach who helped them!). Our goal is to help all students improve their writing as a communicative tool. For me, it's great practice teaching what I enjoy.
I was a Michigan Tech Orientation team leader in summer 2021 and am currently an ExSEL (Excelling the Student Experience of Learning) peer mentor. In both jobs, I work with incoming students to help them transition to college life. I use these opportunities to pass on lessons I've learned, such as utilizing a planner/calendar for all schoolwork, prioritizing your self-care needs and knowing when to ask for help. It's also a chance to learn about new identities and cultures from the diverse body of students.
The organizations I'm involved in also allow me to work with people of different backgrounds across campus. I serve as vice president of Women's Leadership Council, participating in encouraging equality for everyone, especially for women and nonbinary individuals. I write and edit for our student newspaper, The Lode. And I serve as secretary of the Creative Writing Club, a group that encourages all writers to explore and develop their skills.