---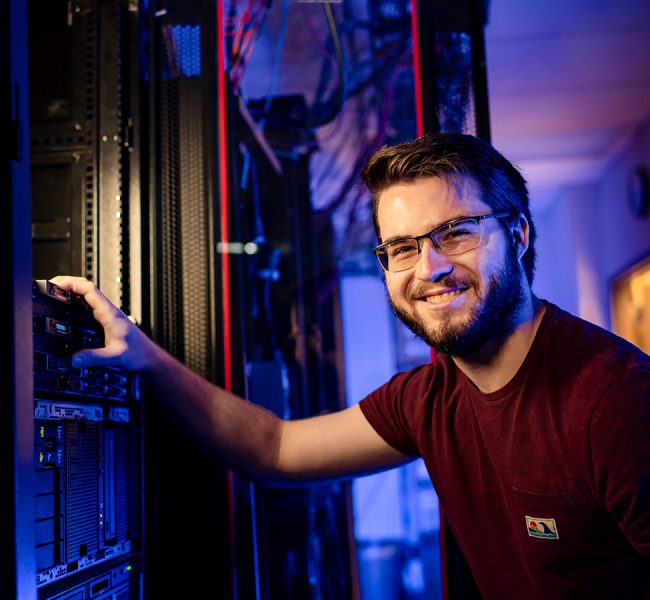 Michigan Technological University has been designated a National Center of Academic Excellence in Cyber Defense (CAE-CD) by the National Security Agency (NSA). The designation is in effect through the academic year 2028.
Ultimately, the goal of the CAE-CD program is to improve the overall cybersecurity posture of the United States. By promoting and supporting quality academic programs of higher learning that help produce the nation's cyber workforce, the CAE-CD designation helps to ensure that the nation is better prepared to defend against cyber threats and attacks.
"CAE-CD designated Institutions are recognized as leaders in cybersecurity education and research, and graduates of CAE-CD programs are highly sought after by employers in the cybersecurity field," says Professor Yu Cai, Applied Computing department, who led the CAE-CD effort. "This recognition can help to attract students and faculty members, as well as funding and collaboration with government agencies and industry partners."
Additional College of Computing faculty members directly involved in the effort include Jean Mayo, Bo Chen, and Gorkem Asilioglu of the Computer Science department, and Tim Van Wagner and Todd Arney of the Applied Computing department.
"Without the collective effort and support of the team, we would not have been able to achieve what we have accomplished. We value and acknowledge each person's contributions and dedication towards our shared goals and the mission of the college," says Cai.
"Congratulations to the team for being named a National Center of Academic Excellence in Cyber Defense," says Rick Koubek, President. "This designation certainly provides many opportunities for growth at the university."
"This is great recognition for the University, confirming our excellence in education and research and the quality of Michigan Tech's academic programs and its faculty," says Interim Provost Andrew Storer. "It opens up exciting new opportunities."
"I am absolutely thrilled," says Chair Dan Fuhrmann, Department of Applied Computing. "This designation means that we are recognized and certified by the NSA as an institution committed to producing cybersecurity professionals who will address vulnerabilities in our national infrastructure."
Importantly, Fuhrmann notes that the designation "puts Michigan Tech on the map as one of 300 institutions in the country with high-quality academic programs in cybersecurity, which will no doubt lead to increased visibility and growth of those programs."
Institutions that receive a CAE-CD designation have met rigorous requirements set forth by the NSA. The NSA awards CAE-CD designations to institutions that commit to producing cybersecurity professionals that will reduce vulnerabilities in our national infrastructure. Further, the program aims to create and manage collaborative cybersecurity educational programs that:
Establish standards for cybersecurity curriculum and academic excellence,
Include competency development among students and faculty,
Value community outreach and leadership in professional development,
Integrate cybersecurity practice within the institution across academic disciplines,
Actively engage in solutions to challenges facing cybersecurity education.
The National Centers of Academic Excellence in Cybersecurity (NCAE-C) program is managed by NSA's National Cryptologic School. Federal partners include the Cybersecurity and Infrastructure Security Agency (CISA), the Federal Bureau of Investigation (FBI), the National Institute of Standards and Technology (NIST)/National Initiative on Cybersecurity Education (NICE), the National Science Foundation (NSF), the Department of Defense Office of the Chief Information Officer (DoD-CIO), and U.S. Cyber Command (USCYBERCOM).
As part of the CAE-C community, Michigan Tech has access to resources to aid individual success through workshop facilitation, marketing efforts, and communication tools. The CAE-C Community actively engages with government representatives to provide educational workshops, opportunities for funding, conferences, and working groups. The Community also partners with industry to ensure that students entering the next generation cyber workforce have the necessary knowledge, skills, and abilities for a successful career in cybersecurity.