---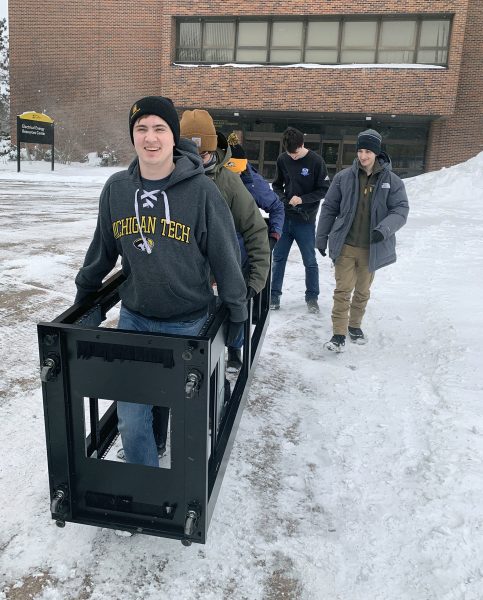 If you were on the Michigan Tech campus between 10 a.m. and 5 p.m. last Saturday, March 18, you might have seen a crew of Networking and Computing Student Association (NCSA) students moving more than 20 pieces of equipment, including servers, routers, and switches, from EERC 328 to the organization's new home in Rekhi Hall, Room 315. And while the physical move occurred March 18, device configurations are ongoing as the students bring their production environment back online in the new location.
Browse a photo gallery below.
"It took around seven trips between the buildings to get all the large items moved," says master's student Jacson Ott, Cybersecurity. "It was a lot of fun and a good handful of students got hands-on experience with our hardware. We're very grateful to campus IT for letting us borrow a cart for the day."
The NCSA extends special thanks to faculty members Tim Van Wagner, NCSA faculty advisor, and Guy Hembroff, Applied Computing, for helping identify the new location and advocating on behalf of the student organization. The moving crew comprised students Chris Kolhoff, Mitchell Kelly, Ian Pardee, Matthew Gervasi, Abby Jurewicz, Dev Sanghani, Andrew Vassallo, and Aidan Drzewicki, and Jacson Ott.
Jacson Ott, NCSA President and Network Team Lead, shares the story below.
What prompted the move?
The NCSA has been looking for a new location to host some of its equipment for over two years. Our EERC location imposed limitations on our ability to host events during the warmer months due to the cooling capacity of the space. And over the past few years, the NCSA and Cybersecurity degree programs have seen significant increases in enrollment. This influx of students meant that space in our previous location was at a premium and our instructors were working to expand the capacity of several nearby hands-on labs.
What are the advantages of the new space?
Our new location in Rekhi Hall provides a number of advantages for the organization. The space was designed to accommodate high-performance computing systems, so it has adequate cooling and access control, and less foot traffic. This will ensure that our production-critical hosts and services stay online. We've worked with our advisor to retain some space in our previous location for non-production equipment, allowing members easy access to our testing and development devices.
What challenges did you face?
One challenge was that the Rekhi Hall elevator was not operating, so we used the Fisher Hall elevator, adding additional steps for the movers. Activating our network service with campus TelCom also required extra time and a number of emails exchanged with campus IT. Eventually, we reached a short-term solution with a plan moving forward. But because we had documented the physical connections between devices prior to the move, we easily reconnected everything at the new location. We utilized an open-source software called NetBox, which allowed us to create a digital map or "source of truth" of the network.
Tell us about the NCSA.
The Networking and Computing Student Association serves to provide all students interested in applied computing with opportunities to gain hands-on experience with technology outside of the classroom. We have over 20 active members from various majors, including but not limited to, Computer Science, Computer Engineering, CNSA, Cybersecurity, and Management Information Systems.
We work with industry-standard applications and services to create and manage our own enterprise-like environment. Active members of the organization have access to these resources and they can pursue technical projects of their own. This year, NCSA hosted a series of industry speakers at our weekly general meetings. These individuals are from organizations including Palo Alto Networks, Jump Trading, Heartland Business Systems, Los Alamos National Labs, Oak Ridge National Labs, and more.
Previous NCSA projects include the development of an in-house Capture the Flag (CTF) platform and game-hosting services. The NCSA has hosted CTF events for GenCyber, Michigan Tech's RedTeam, University of Michigan's WolvSec, and more.
---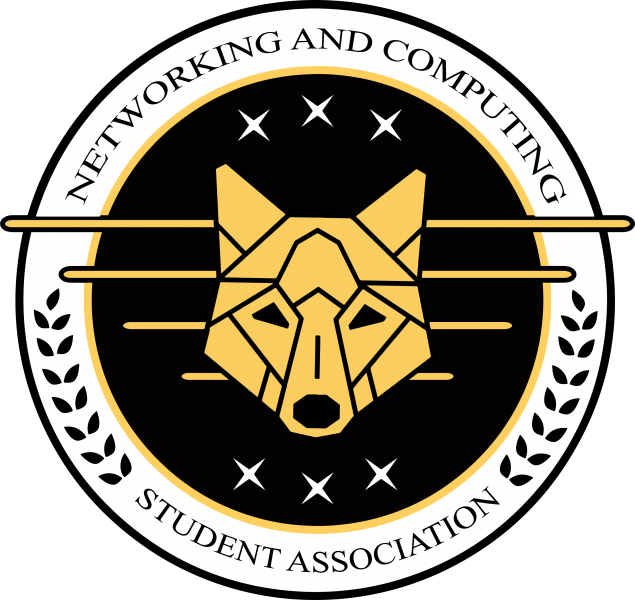 Network and Computing Student Association logo