---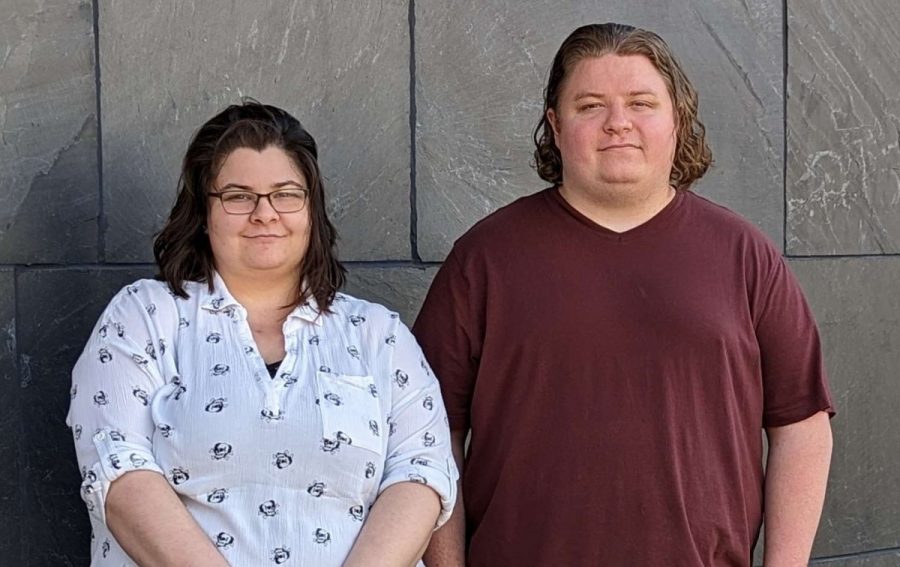 Michigan Tech's Design Expo 2023 has awarded first place in the Senior Design competition for the project, "Social Engineering for High School Students."
The winning project was completed by Department of Applied Computing undergraduates Connor Langdon, Cybersecurity, and Kayla Blunt, Computer Network and System Administration (CNSA).
The students' faculty advisors are Victoria Walters and Tim Van Wagner, both in the Department of Applied Computing.
Kayla and Connor also worked closely with Kat Rawhouser, Gear Up Coordinator for the Center for Educational Outreach, to present the training to Dollar Bay School District students. Kayla and Connor also presented their findings at Hancock High School.
View a video about the winning senior design project here.
Find the winning project here (scroll down to project no. 233).
This is the second year that the top Senior Design prize was awarded to a team from the Applied Computing department. In spring 2022, the first place Senior Project was awarded to Cybersecurity majors for their project, "222: IoMT Device Security."
Project Overview
The goal of the project is to develop and deliver social engineering education for high school students in the local area. Through social engineering education, we aim to spread awareness of one of the most common cybersecurity threats, as well as provide resources for reporting the threat and promoting safe practices when emailing, browsing the web, engaging in social media, and answering calls and texts.
Their project centered around the creation of a robust social
engineering training session for high schools. From the creation of the training materials and tests, the students were able to quantify their results by performing a social engineering awareness test prior to their presentation and after their presentation. The compared results showed a marked improvement in the student's ability to recognize potential phishing and other social engineering attempts after receiving the training. The training provided methods to spot sometimes hard-to-recognize social engineering attempts.
About Design Expo
Design Expo highlights hands-on, discovery-based learning at Michigan Tech. During the event, which is hosted by the Enterprise Program and the College of Engineering, more than a thousand students in Enterprise and Senior Design teams showcase their work and compete for awards. A panel of judges, made up of distinguished corporate representatives, Michigan Tech staff and faculty members, and community members, critique the projects and determine the award winners.
Design Expo features student teams from all five Colleges at Michigan Tech: Business, Computing, Engineering, Forest Resources and Environmental Science, and Sciences and Arts. On display at Design Expo you'll find our students' spirit of imagination, innovation, and collaboration. As you talk with them, their projects and their level of dedication are sure to impress!
Design Expo 2023 is generously supported by industry and university sponsorship.