July  14- 20, 2019
 5-Day Science & Engineering Summer Internship      at Michigan Technological University
(plus additional travel days)
OPEN to High School students in Michigan 
$700 Scholarship for transportation, meals, & lodging provided
---
Possible internship focus areas …
School of Forest Resources & Environmental Sciences
 Biological Sciences
Technology & Robotics
Aquatic Ecology & Fisheries
 Mechanical Engineering
 Civil & Environmental Engineering
More!!!
You will:
Work with MTU faculty and graduate students in their labs or doing field work.
Tour MTU campus, stay in a dorm, eat in the dining hall
Meet  students from around Michigan and beyond!
To Apply
  APPLICATIONS DUE:  April 15, 2019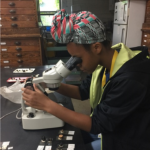 ¨ Complete application form HERE or download and mail.
¨ Provide at least one letter of recommendation.
---
Coordinated by  Michigan Tech Center for Science & Environmental Outreach
With funding from:
MTU College of Engineering
MTU Dept. of Civil & Environmental Engineering
MTU School of Forest Resources & Environmental Science
MTU Dept. of Social Sciences
                    MTU Dept. of Mechanical Engineering
                    MTU Admissions
                   MTU Great Lakes Research Center
                    MTU Dept. of Chemistry
                    MTU Dept. of  Geological & Mining Engineering & Sciences
Michigan Space Grant Consortium