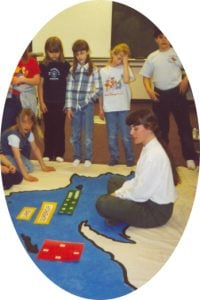 The Center for Science and Environmental Outreach was established in 1991 as the Michigan Technological University Regional Groundwater Education in Michigan (GEM) Center. The W.K. Kellogg Foundation, in association with the Institute of Water Research at Michigan State University, created the GEM Program in 1988. GEM's purpose was to promote awareness, understanding, and protection of groundwater resources. In all, six university-based regional GEM centers were funded to support more than 30 community-based GEM projects throughout Michigan.
Over time, the MTU Regional GEM Center focused attention more closely on the connections between groundwater and surface water and the various land-use and disposal practices that impact water resources on a watershed scale. To reflect this changing emphasis and growth in programming, the Center decided in 1997 to adopt a new name, the Center for Science and Environmental Outreach.
Administratively, the Center is part of the Department of Civil and Environmental Engineeringand the College of Engineering. The Center is divided into Educational and Community Outreach Programs. The Center forms partnerships with MTU students, staff, and faculty; intermediate school districts; local, state and federal government agencies and entities; non-profit organizations, planning offices, county and district health departments, and tribes to develop and conduct programs.

The Center has received funding from the following sources:
Dunn Foundation
Elizabeth E. Kennedy Fund
International Paper
Keweenaw Community Foundation
Mead Paper Division
Michigan Department of Natural Resources Non-game Wildlife Fund
Michigan Department of Environmental Quality
Michigan Technological University
National Environmental Education and Training Foundation
OHM Advisors
Peter M. Wege Foundation of Grand Rapids, MI
Torch Lake Public Action Committee
U.S. Environmental Protection Agency
W.K. Kellogg Foundation
Western Upper Peninsula Center for Science, Mathematics and Environmental Education