Sat.-Sat. July 21 – 27, 2019
Apply for an Amazing 7-Day Exploration of Environmental Science & Engineering  At Michigan Tech & the Upper Peninsula! Transportation, meals & lodging Provided!
OPEN to High School students  who want to explore Environmental Careers:  forestry, natural resources, wildlife, engineering, water quality, and more! Michigan Tech's Environmental Science program is ranked 5th in the Nation and best  in the Midwest
---
What YOU will do …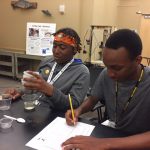 ¨ In the forest, ID and measure trees, and collect frog data;
¨ On the water, sampling aboard a research vessel;
¨ In the lab, examine plankton, drive a Remotely Operated Vehicle (ROV), and design a process to clean water;
¨ Tour MTU campus, stay in a dorm, eat in the dining hall;
Experience national & state parks with scientists and experts in Michigan's Upper Peninsula! Come ready for adventure!
To Apply
  APPLICATIONS DUE:  April 15, 2019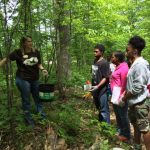 ¨ Complete application form HERE or download and mail.
¨ Provide at least one letter of recommendation.
---

Exploration Team Leaders:
Mike Reed,  Curator of Education, Detroit Zoo
Lisa Perez, U.S. Forest Service ~ Detroit Urban Connections
Bruce Ross, MI Dept of Natural Resources
Joan Chadde, Director, Center for Science & Environmental Outreach, Michigan Technological University
Jerry Jondreau, Director of Recruitment, MTU School of Forest Resources and Environmental Science
Coordinated by  Michigan Tech Center for Science & Environmental Outreach
With funding from:
 School of Forest Resources &  Environmental Science
College of Engineering
Dept. of Civil & Environmental Engineering
Michigan Tech Transportation Institute
MTU Housing & Residential Life
Center for Diversity & Inclusion
College of Engineering
Dept. of Mechanical Engineering
MTU Admissions
MTU Great Lakes Research Center
Michigan Department of Natural Resources
U.S. Forest Service