Our fall field trip offerings are listed below. The accompanying lessons plans are a sample of the lessons present and the content of each field Trip my vary slightly based on the instructor presenting and individual class needs. To customize a lesson or additional content not listed please contact the CSEO Director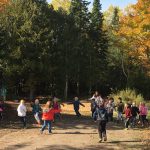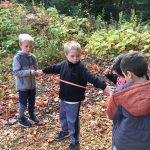 Registration for this program will be available again, following Summer Break 2023 
---
Field trips are available to all public, private and home schools.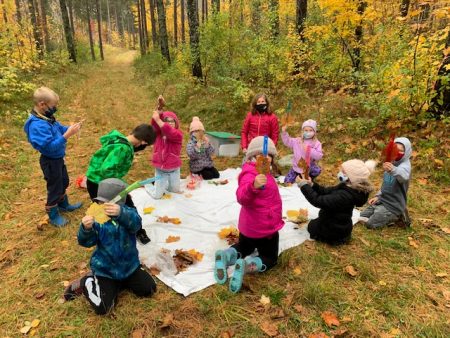 Safety: Students will  have access to hand sanitizer before and after the field trip. Any reusable items will be cleaned between uses.
Cost: The field trips are $50 per class (up to 30 students). MTU will invoice each school at the end of
the season for the total number of field trips provided for each school during that season.
Program Descriptions
Pre-K & Kindergarten
Sense Detectives     Duration:  ½ hour-1hour
By listening carefully and looking closely, students use their senses to interpret the world around them as they discover the living and nonliving parts of the forest. After identifying what all living things need to survive, students will search the forest for some of these needs. Standards addressed: K-LS1-1, K-ESS2-2, K-ESS2-1
GRADE 1
Bird Migration           Duration: 1-1.5 hours
Students will examine the questions: Why do birds migrate? What are some of the challenges they face during migration?  How are birds alike or different? Standards addressed: 1-LS1-2,  1-LS3-1,
GRADE 2 
To Be a Tree and Seed Get-Aways         Duration: 1-1.5 hours
Students will investigate trees, focusing on what plants need to survive. They will describe the life cycle of familiar plants and compare the leaves and seeds of different trees.  They will also participate in a scavenger hunt identify the different methods of seed dispersal.  Standards addressed: 2-LS2-1, 2-LS2-2, 2-LS4-1, K-2-ETS1-2
GRADE 3
Have to Have Habitat & Adaptations for Survival        Duration:  1-1.5 hours
Students will observe some of the unique structures and functions of organisms, investigate how plants and animals are adapted to their environments, and participate in multiple activities.  Standards addressed: 3-LS2-1, 3-LS4-3, 3-LS4-4, 3-LS3-1, 3-LS3-2, 3-LS4-2
GRADE 4 
Wildlife Signs and Survival        Duration: 1-1.5 hours
Students will go on a scavenger hunt to look for signs of wildlife.  Through two activities, "Oh Deer!" & "How Many Bears?", students will investigate factors influencing organisms' survival and population growth. Standards addressed: 4-LS1-1, 4-LS1-2,  4-ESS3-1
GRADE 5
Tree Identification     Duration: 1-1.5 hours
Using guidebooks and dichotomous keys, students will use observations of leaves, buds, bark, tree silhouettes, and branch patterns to help identify native trees species. Students will also be introduced to measurement of tree height and diameter. Standards addressed: 5-PS3-1, 5-LSl-1, 5-LS2-1
GRADE 6
Fabulous Fungi             Duration: 1-1.5 hours
Students will learn what a fungus is and about its role as a decomposer is in the forest ecosystem.  We will hunt for the fruiting bodies (mushrooms) of fungi and classify what we find according to the nine major divisions of mushrooms.  Standards addressed: MS-PS1-2, MS-LS1-1, MS-LS1-3, MS-LS1-7, MS-LS2-1, MS-LS2-3, MS-LS2-4, MS-LS1-4, MS-ESS2-1
GRADES 7-8
Possible topics include:
   Aquatic Macroinvertebrate Stream Study
   Bog and Wetland Ecology
   Fungi and Decomposition
   Tree ID
   Wildlife Signs and Survival
Possible Locations for Fall Field Trips:
Baraga School Forest
Bessemer City Park
Black Creek Nature Sanctuary
Calumet Waterworks Park
Calumet Lions Park
Ford Forestry Center
Lake Linden-Hubbell School Forest
Maasto-Hiito Trails
McLain State Park
Michigan Tech Trails
Nara Nature Center
Norrie Park
Paavola Wetlands
Your school
Suggest a site!
Cancellation Policy: the Center will not cancel any field trips due to weather, it is the responsibility of the teacher to
decide if a field trip should be cancelled. To cancel a field trip, please email the CSEO Director at: teoliver@mtu.edu at least 2 hours in advance (3 hours for Gogebic/Ontonagon schools).
For more information, contact:
Tom Oliver, Director
Email:  teoliver@mtu.edu
Field Trip Financial Support
The Outdoor Science Investigation Field Trip Program has been funded since 2008 with a grant from the Wege Foundation to Michigan Tech.
In 2012 and 2015, snowshoes were purchased with support from the Keweenaw Community Foundation and the MEEMIC Foundation,
respectively. In 2016, another grant from the Keweenaw Community Foundation is funding technology to support outdoor investigations.
The field trip program is coordinated by Michigan Tech's Center for Science and Environmental Outreach, with support from Michigan Tech's College of Forest Resources and Environmental Science, and funding from the Wege Foundation.