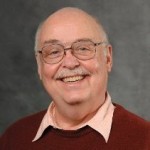 Jon Sticklen, the director of Applied Engineering Sciences at Michigan State University, has agreed to serve as chair of the Department of Engineering Fundamentals at Michigan Tech.
Sticklen, an associate professor of computer science and engineering at Michigan State, is also director of MSU's Center for Engineering Education Research. In that position, he has promoted research on engineering education and curriculum revision. Led by Sticklen, the center has attracted over $8 million in external funding over the last five years, largely from the National Science Foundation.
"We are delighted to have Dr. Sticklen join the team at Michigan Tech," said Dean of Engineering Wayne Pennington. "He brings years of experience in interdisciplinary education and will enhance our mutual goal of providing future engineers and applied scientists with the background to succeed in today's environment of innovation."
As of Aug. 1, Sticklen will replace the current chair, Jean-Celeste Kampe, who is returning to the faculty. "As chair, Dr. Kampe did a wonderful job revamping the engineering fundamentals curriculum, elevating it to a truly excellent program," said Pennington. "Having accomplished her goals, she's now looking forward to turning responsibility for the department's continuous improvement to Dr. Sticklen, while she returns to full-time teaching and research. We are looking forward to working with her as she continues to progress in her career."
At Michigan State, Sticklen spearheaded an interdisciplinary working group devoted to engineering education research. The group, incorporating representatives from the College of Engineering, the College of Natural Science and the College of Education, addressed curricula reform, with an emphasis on freshman engineering and integrating computing throughout the undergraduate engineering programs.
Before shifting his research to engineering education, Sticklen focused on artificial intelligence. In addition to pursuing collaborative research with fellow faculty, he also consulted with McDonnell Douglas Research Laboratory's Artificial Intelligence Group, where he was responsible for integrating deep reasoning capabilities into aerospace computer systems.
As director of Applied Engineering Sciences, he presided over a growth in enrollment from 120 students in 2009 to 230 students in 2014. He also led a substantial redesign of the program.
Sticklen cited Michigan Tech's reputation as a primary reason for his decision to accept the chair's position. "Michigan Tech has long been recognized nationwide as a leader in developing young men and women who become next-generation leaders in engineering," he said. "With such a high bar already in place, I look forward strongly to working collaboratively with dedicated engineering fundamentals faculty and with faculty from across Engineering and the other colleges to develop instructional approaches and environments that ignite the imagination and creativity of our students and instill in them the desire to 'get the job done—well and on time'—characteristics that underpin successful engineers."
Sticklen has been the major advisor for seven PhD students and a principal investigator or co-principal investigator on over $8.7 million in funded research and holds one patent in distributed problem-solving architectures. He has coauthored a textbook, "An Introduction to Technical Problem Solving with MATLAB," and authored or coauthored approximately 125 papers, chapters and theses.
Sticklen earned PhD and MSc degrees in Computer Science and a BSc in Physics from Ohio State University. He received an MS in Astronomy from Columbia University and is completing an MSc in Problem-based Learning from Aalborg University, in Denmark.