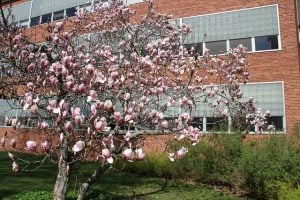 The Engineering Fundamentals department is teaching in a new space and using some new methods this fall. It's interesting stuff, pushing technological boundaries and using near-peer learning assistants.
They'll have great information to share with a bit more experience. But they are also generating ideas that could be implemented anywhere, by any instructor.
This week, one of the instructors involved stopped into the CTL for other reasons and described some of the ill-posed, real-world problems they're pushing students to try to solve. The problems force students to research, estimate and model, unavoidably "embracing the ambiguity" of the situation.
That phrase "embracing ambiguity" really resonated for me, in terms of pushing our students and ourselves toward better learning. In my own classes, I routinely see students who "freeze" when faced with a problem for which they can't see the solution from start to finish.
We have to work on getting comfortable with not knowing exactly what to do, but doing something that's likely to be productive anyway. "Wandering into the woods" this way is often the only way to eventually see the other side, and it often involves several false starts before a path is found.
But that's the easy part of this. As our classrooms move toward more learning-centered teaching, instructors, too, are challenged to "embrace ambiguity." It's relatively easy to plan out a lecture where we control the content and pace and perform virtually all of the activity.
There is substantial uncertainty in allowing students to direct class by choosing examples, asking questions or injecting their own ideas. There is lots of ambiguity in getting students active, because we don't really know exactly where things are going to go.
I'm convinced that there is increasing value in finding ways to making at least parts of class time responsive to student needs.
In my own class, I've discovered that using a tool called Strawpoll to let students pick which homework problems to review is very effective. Using response systems, pre-class assignments, exit tickets, student whiteboards or group quizzes are other ways to give students a voice in the classroom. The biggest challenge is still to set aside my own agenda to do what they need when they use it.
If you'd like to talk more about ways to embrace ambiguity in your classroom, stop into the William G. Jackson Center for Teaching and Learning.
By Mike Meyer, William G. Jackson CTL