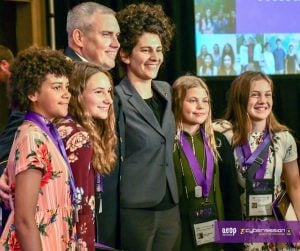 LAKE LINDEN — Lake Linden's eCYBERMISSION team reported back to the district board Monday about its recent trip to Nationals.
"We didn't win, but we had fun at the competition," said Olivia Shank, who competed alongside Rebecca Lyons, Chloe Daniels and Jenna Beaudoin.
To aid students walking to or from school in the dark, the team, named Yooper Lights, designed LED reflectors for students to attach to their backpacks.
This year, the Yooper Lights are working with Tech's chapter of Society of Women Engineers, (SWE), which got a grant to make electrical engineering kits for fifth- and sixth-graders.
"Michigan Tech is really excited about it too, because they will use it for their alumni," said coach Gretchen Hein.