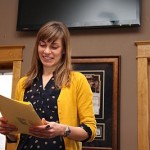 The Department of Geological & Mining Engineering & Sciences
13th Annual Awards Ceremony was held Thursday, April 11, 2013 at the Downtowner Restaurant Hall in Houghton. In addition to graduating seniors and graduate students getting recognition, numerous scholarship awards and special presentations were made by Department Chair Dr. Wayne Pennington.
A selection of photos can be found on the College of Engineering Flickr Resources.