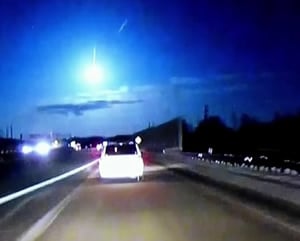 Shortly after 8 p.m. on the evening of Jan. 16, 2018, a meteor fireball was witnessed from lower Michigan to as far away as eastern Wisconsin. You can view a news video of the fireball on YouTube.
Within two days of the fall, meteorite hunters found fragments on frozen lakes around Hamburg, Michigan, a small town Northwest of Detroit. One of the fragments that was found on Strawberry Lake has been donated to the A. E. Seaman Mineral Museum by the Michigan Mineralogical Society.
The Hamburg meteorite has been classified as an ordinary chondrite by the Chicago Field Museum of Natural History. Ordinary chrondrites are the most "primitive" type of meteorites and were formed about 4.5 billion years ago from dust and small grains in the early solar system. It is generally agreed that the Earth and other rocky planets formed from the same material as chondrites.
The Hamburg meteorite is only the 11th identified meteorite to fall in Michigan and is now on public display in the Introduction gallery at the Museum as a result of the generosity of the Michigan Mineralogical Society, southeast Michigan's premier mineralogical club.
The society hosts the Greater Detroit Gem and Mineral show held annually in October at which the museum is a regular exhibitor.
By A. E. Seaman Mineral Museum.