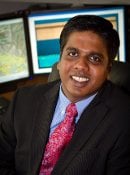 Thomas Oommen (GMES/MTTI) is the principal investigator on a project that has received a $5,000 research and development contract from the University of Michigan. The project is "Remote Sensing Based Terrain Strength Characterization for the Next Generation NATO Reference Mobility Model Development.
This is the first year of a potential three-year project, potentially totaling $109,337.
By Sponsored Programs.
The NATO Reference Mobility Model (NRMM) is a simulation tool aimed at predicting the capability of a vehicle to move over specified terrain conditions.