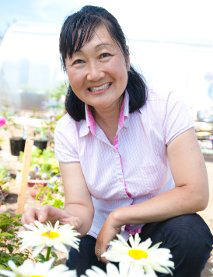 When daylight starts to last well into evening, and Houghton-Hancock area residents get in gardening mode, there's not a lot of choice at the local discount stores: petunias, impatiens, marigolds, geraniums. Or geraniums, marigolds, impatiens and petunias.  But what if you want to grow campanula, with its delicate, bell-shaped lavender blooms? Or morning glories to attract butterflies? Fennel and cilantro and sweet banana peppers to spice up your summer cooking?
When Amber Campbell, an MBA student and avid gardener, thought about that, she saw a business opportunity. With the help of Tech's Small Business and Technology Development Center and the MTEC SmartZone's Entrepreneur Support Center, she has turned a bright idea into a going, growing business: G&A Farmer's Market and Garden Center on Sharon Avenue in Houghton.
She opened in May in a small plastic greenhouse filled with brilliantly colored bedding plants, feathery herbs and hardy vegetables. Later in the growing season, she plans to add a fruit and vegetable stand, selling fresh, local berries, tomatoes, peppers, green beans and Asian vegetables such as garlic chives and bok choy.
In China, where Campbell grew up, she and her family grew and ate their own fruits and vegetables. "I remember how fresh and good they were," she says. "I am bringing my own good memories to life here."  Campbell credits graduate students Fahimeh Baziari and Alex Wohlgemuth from Tech's Peace Corps Master's International Program with volunteering to help fence her site, and Tech master gardener Lynn Watson, who "gave me lots of useful advice on gardening."
For the full story, see Garden.
Published in Tech Today by Jennifer Donovan, director, public relations