Janarjan Bhandari
Atmospheric Sciences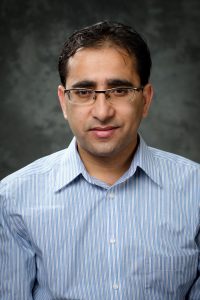 Before joining the Physics Department as a Ph.D. candidate in Atmospheric Sciences, I earned my BS and MS in Physics from Tribhuvan University. My research with Dr. Claudio Mazzoleni focuses on the morphology and mixing state of absorbing aerosol particles in the atmosphere and their optical properties. The effect of absorbing aerosols on climatic forcing is large and highly uncertain. A detailed study on the morphology and mixing state of individual aerosols is necessary to reduce uncertainty in climatic forcing by these aerosols.
During my years at Michigan Tech's Physics Department has provided me full support of my studies. I am thankful to the Michigan Tech Graduate School for the Doctoral Finishing Fellowship award that will help me finish my degree this summer. I am also very grateful to my advisor Dr. Claudio Mazzoleni, who not only mentored me since 2013 in research, but also allowed me opportunities to participate in a collaborative research campaign, and to participate in different conferences that provided a nice platform to interact with the community people and exposure to different instrumentations. I feel proud be a student in the Atmospheric Sciences program at Michigan Tech.