Zhimin Song
Environmental Engineering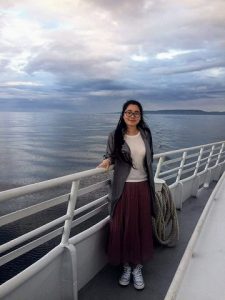 I came to Michigan Tech in Fall 2013 and got my Master's degree in Environmental Engineering in 2017 with a GPA of 3.9. I started my Ph.D. under the direction of Dr. Paul Doskey in 2015, which focusing on the "diagenesis of organic matter in peat and porewater of a poor fen". This program studies the seasonal variation of organic matters in the peatland. Peatlands, as unbalanced wetland ecosystems, contain approximately 30% of the global soil carbon. This large amount of carbon is so sensitive to variations in the climate system that it can serve as the indicator for climate changes. Understanding how the organic matter decomposition at different seasons is of great importance.
My study was conducted at an extensive poor fen peatland in Nestoria, Michigan, USA (46.34º N, 88.16º W). Our field sampling was conducted monthly at three different experimental plots and three different depth under the ground. We were able to track the organic matter decomposition through the year and see the effect of plant functional groups and sampling depths on the organic matter decomposition inside the peatland. These research experiences are invaluable to me as an international student from China.
I would like to thank my adviser Dr. Paul Doskey, my committee member Dr. Erik Lilleskov, and Dr. Evan Kane for their guidance and contributions to these projects. These works cannot be done without their unconditional support. I would also like to thank the Graduate School for granting this finishing fellowship. It really helped a lot reducing my financial burden and allows me to focus on writing my dissertation.