David Rosen
Biomedical Engineering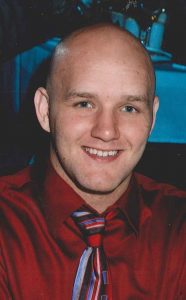 I started my graduate study in the spring of 2015, which was the semester after finishing my undergraduate study at Michigan Tech.  Early on in my undergraduate study, I became fascinated with the general topic of biomechanics and the technologies associated with it. This fascination is what drew me to pursue graduate level research in Dr. Jingfeng Jiang's lab. There I focus on a medical ultrasound technology called elastography, an imaging technique used to assess soft tissue elasticity in vivo.  I am particularly interested in understanding how the complicated mechanics of soft tissue manifest in elastography measurements and what that can tell us about how best to use elastography to characterize various disease states in soft tissue.
The opportunity to pursue this line of research for my graduate study has been a privilege. I am immensely grateful for the support that the Portage Health Foundation has provided me in this pursuit.