Lukai Zhai
Biological Sciences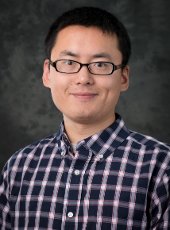 I started my life in Michigan Tech as a Ph.D student majoring in Biological Sciences from 2015 Fall. My advisor, Dr. Ebenezer Tumban, kindly offered me support in his lab till now. I have had a great time working in our lab and our department. Before I came here, I earned my bachelor's degree majoring in Biotechnology in Shandong Normal University, China. I also worked as a research scientist for two years in Shandong University, China. My impression of Michigan Tech is that it is a wonderful place to do research!
Our research focuses on 1) Developing a novel chimeric MS2 bacteriophage virus like particles (VLPs), displaying a tandem HPV L2 peptide, as candidate vaccine to protect against diverse genital HPV infections. 2) In collaboration with Dr. Pavan Muttil (University of New Mexico), formulating the MS2-L2 VLPs into a dry powder by spray-freeze drying for thermostability test (2 Month) and assessing the potential of MS2-L2 VLPs to offer oral and vaginal protection from HPV pseudovirus infection, following sublingually immunized with mucosal adjuvants. 3) Cloning, co-expressing in E. coli, and purifying two coat proteins (ORF13 and ORF14) from a novel thermophilic phage ΦIN93. Assess the potentials of the coat proteins to assemble into VLP.
It is a great honor for me to receive the Finishing Fellowship and I would like to sincerely thank the Graduate School for offering me the support! Also I want to express my gratitude to everybody who helped me in my research and life. At last, I am proud of being a Husky!