Simeon Schum
Chemistry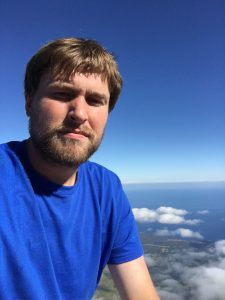 I arrived at Michigan Tech in Fall 2013 after receiving my Bachelor's degree in chemistry from University of Alaska, Fairbanks the previous spring. After arriving, I joined Dr. Lynn Mazzoleni's group, which is primarily focused on investigating the molecular composition of atmospheric organic aerosol using ultrahigh resolution mass spectrometry.
My research has focused on the analysis and interpretation of organic aerosol collected at the Pico Mountain Observatory, which is located on Pico Island in the Azores Archipelago, within the north Atlantic Ocean. Through this work I was able to go to the site in the summers of 2014 and 2017 for a total of ten weeks and helped operate and maintain the site so that samples and observations could be obtained for researchers at Michigan Tech and other collaborating institutions. Some of my work from the site highlighted interesting questions about the aging processes that organic aerosol undergo based on the ambient conditions in the atmosphere during long-range transport.
In addition to my work with organic aerosol, I learned how to write code in R and have used that knowledge to write a code package that includes functions that do molecular formula assignment, isotope filtering, signal to noise determination, and recalibration. These are all important for the analysis of ultrahigh resolution mass spectrometry data.
First, I would like to thank Dr. Mazzoleni for her incredible assistance over the years in mentoring and providing me the opportunity to do things I may not have otherwise done. I would also like to thank the Michigan Tech Graduate school for awarding me this finishing fellowship, which will allow me to focus on finishing my dissertation and journal publications related to my work.